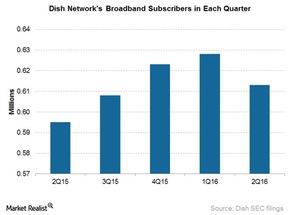 Dish Network's Broadband, Wireless Spectrum: What to Expect
By Shirley Pelts

Updated
Dish's broadband business
Dish Network (DISH) provides satellite broadband services through the dishNET brand. According to Dish, this service mainly targets rural customers who may have no access or limited access to wireline broadband. Dish uses satellites launched by companies like Hughes Communications and ViaSat (VSAT) to provide this service.
Dish is also looking forward to the launch of its new high-throughput EchoStar satellite in December 2016 and another launch of a high-throughput ViaSat satellite next year.
Dish has also stated that, with the new satellite launches, the company expects "to give a better product to customers and give them more – give an existing customer more capacity for the same amount of money. And that should lead to the reduction in churn."
Article continues below advertisement
Dish and the wireless spectrum
For a company like Dish, wireless spectrum licenses are a valuable asset. Since 2008, the company has invested ~$5 billion in acquiring wireless spectrum licenses. Dish was asked during its 2Q16 earnings call about the possibility of its buying more spectrum in the secondary market. Dish didn't entirely rule out buying more spectrum in the secondary market, as the company sees itself gradually "transitioning to a connectivity company."
When it comes to spectrum buildout, Dish doesn't have the experience to meet the buildout requirements for spectrum licenses. According to FCC (Federal Communications Commission) regulations, a spectrum license can be revoked if a company fails to provide wireless service to a minimum of ~40% of the population in a particular geographic area during a stipulated time.
On the company's 2Q16 earnings call, Dish said it believed that when it came to building out the spectrum, it was better to "build out with somebody else who's also building out so you get some synergy in the build-out."