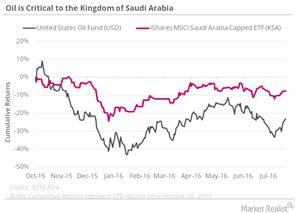 Oil Has Been Weighing Down Saudi Arabia
By Surbhi Jain

Nov. 22 2019, Updated 6:29 a.m. ET
Oil is critical
Oil is critical to Saudi Arabia. The country is the largest exporter of petroleum, with 18% of the world's proven petroleum reserves.
Oil (USO) commands about 45% of emerging market Saudi Arabia's (EEM) (EMB) GDP. Oil has been driving growth and prosperity in the country for years. It's what gave the economy with the capacity to offer free healthcare, gasoline subsidies, and routine pay raises.
However, what seemed like a boon has turned a bane. The country has reached a point where it's had to reach out to international capital markets to raise money. The driver of this necessity seems to be oil.
Article continues below advertisement
Oil's price plunge
The supply glut caused oil's price plunge starting in mid-2014 has mainly been responsible for Saudi Arabia's public finances drying up. The world (ACWI) (VTI) has seen the price of crude oil plummet from a high of $115 per barrel in mid-2014 to under $30 per barrel at the end of 2015. On top of this fall, oil was taking Saudi Arabia's revenue down with it, turning the country's healthy budget surplus into a deficit.
Despite recovering to nearly $50 per barrel, oil's price isn't high enough to support the country's rising budget deficit. Standard & Poor's has noted that for Saudi Arabia, "funding requirement has been mounting since 2015, when the drop in oil-related revenue turned fiscal surpluses into deficits." The ratings agency estimates the GCC (Gulf Cooperation Council) countries' total deficit to be ~12.8% of their combined GDP for 2016.
Other contributing factors
Falling demand from the United States and the opening up of Iran's oil supply have also weighed on oil sales and finances for Saudi Arabia. Iran is set to hit the market with ~1 million new barrels of oil per day.