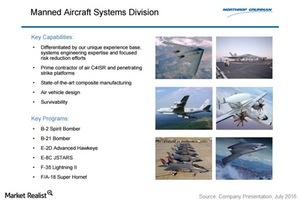 Northrop Faces Fierce Challenge from Lockheed over T-X Contract
By Shannon Black

Nov. 20 2020, Updated 3:40 p.m. ET
Which trainer will the Air Force choose?
In times of declining budgetary allocations for defense (PPA), affordability is likely to be the single-most important factor in awarding the trainer contract. Since clean sheet designs of aircraft that are built from scratch for US Air Force requirements are more likely to raise costs, in-production bids with lower manufacturing risks are likely to be more competitive.
Both Boeing's (BA) and Northrop Grumman's (NOC) teams have submitted clean sheet bids. Based on this factor alone, Lockheed's (LMT) bid seems more attractive, and so it is positioning itself as a low-risk option. Lockheed stated that the T-50 was built as a replacement for T-50 trainers. But the Air Force has hinted that it is willing to offer more incentives for aircraft that meet additional design specifications, and so the clean sheet bids can't be ruled out.
Article continues below advertisement
Why is this order so important for Northrop and peers?
Assuming the contract is priced at $11 billion and the procurement lasts for about ten years, the winner of the contract would secure over $1 billion worth of revenues for the next decade.
Based on expected revenues in 2016, this figure represents around 2.5% of annual revenues for Lockheed Martin (LMT), 4.4% for Northrop, 4.3% for Raytheon (RTN), and 1.1% for Boeing. And as the trainers age, the aftermarket comes into the picture, thereby creating a potential to generate sustainable revenues over several decades.
Opportunities for foreign orders
Foreign customers account for 22% of the planned production of 3,140 F-35 jets. Since the T-X program is specifically being built for the training needs of fifth-generation fighter jets, the contract winner could also benefit from lucrative high-margin contracts from foreign governments.