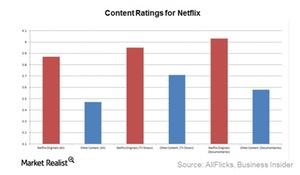 Netflix Sees Its Content as Key to Its Higher Net Additions
By Shirley Pelts

Updated
Original programming
Netflix (NFLX) expects to spend ~$5 billion on content acquisition in 2016 and $6 billion on content in 2017. Currently, 10% of its content spending is on original content. The company would like to raise that amount to 50%.
Netflix believes original content will strengthen its brand and drive up viewing hours. Netflix is aiming for 600 hours of original programming in 2016 and intends to take this up to 1,000 hours of programming in 2017.
Article continues below advertisement
The company also noted in its earnings letter to shareholders that its subscription-based, ad-free business model allows it to experiment with content that can appeal to "both mass and niche audiences alike." Netflix also indicated that Narcos, one of its original series, was met with a positive response globally in the series' second season and was a key driver of acquisitions of new members globally.
According to an April 2016 Business Insider report, citing research from AllFlicks, Netflix's original content has an average rating of 3.9 out of 5. This rating appears in the graph above. According to the report, Netflix Originals perform 11.5% better than other content.
Netflix's content licensing agreements
In July 2016, Netflix entered into content licensing agreement regarding Star Trek with CBS (CBS) Studios International. Netflix will exclusively stream Star Trek—starting with the original series that debuted in 1966 through the other spin-offs—in 188 countries, excluding the United States and Canada. Each episode of the new Star Trek series, which debuts in January 2017, will be available on Netflix in international territories within 24 hours of its premiere in the United States.
Netflix has also entered into a content licensing agreement with 21st Century Fox (FOXA). According to the terms of the deal, Netflix will have exclusive streaming rights to FOXA's FX channel's series American Crime Story, the first season of which is The People v. O.J. Simpson: American Crime Story.
During an earlier earnings call, Netflix referred to the price it has paid for these content licensing agreements, stating, "You should think about content cost like player personnel cost. At any given season, a super star goes free agent and that particular player's prices goes to the roof, but player personnel cost, they remain pretty flat and that's the case here."