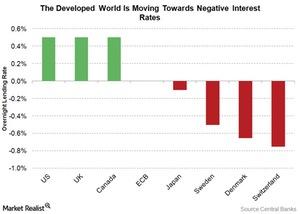 Gundlach Looks for Evidence that Negative Rates May Support Markets
By Surbhi Jain

Nov. 22 2019, Updated 6:37 a.m. ET
Negative interest rates
With developed markets such as Japan (EWJ) and Europe (FEZ) (VGK) resorting to negative rates, it only makes investing sense to analyze how negative rates stand to impact returns on investment and the stock market in general.
Article continues below advertisement
Germany
As of September 28, Germany's (EWG) key interest rate is at 0%, and its ten-year sovereign debt is at a -0.15% interest rate. However, the German DAX Index returned -2.8% YTD (year-to-date). These figures suggest that negative rates don't support the stock market. Jeffrey Gundlach, however, doesn't ignore the fact that maybe negative rates have helped cushion an impending fall that interest rates could have experienced if the central bank hadn't taken them to negative territory. However, negative rates have certainly done nothing to boost the stock market.
Japan
Similarly, in Japan (HEWJ), the benchmark index hasn't budged much since the central bank's decision to make interest rates negative. Despite Japan's (EWJ) key interest rate at -0.10% and its ten-year sovereign bond yielding -0.08%, stock markets in Japan are even lower than they were before interest rates went negative. The Nikkei 225 Index, which serves as a benchmark for the Japanese stock market, is down over 12% YTD as of September 28.
Thus, Gundlach stands by his belief that negative rates haven't helped bolster stock markets. They haven't helped global GDP either. World GDP has been declining and following a negative trajectory ever since interest rates went negative in Europe (FEZ) and Japan (EWJ).
Let's take a look at earnings expectations.