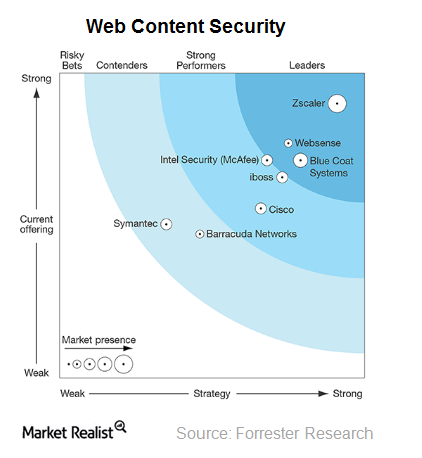 What Key Factors Boosted Symantec's Stock in Fiscal 2016?
Security intelligence system gets a boost
So far in this series, we've learned how Blue Coat Systems could positively impact Symantec's (SYMC) impending fiscal 2Q17 earnings.
On October 26, 2016, Symantec said that it had integrated "Blue Coat Threat Intelligence into its Global Intelligence Network." This integration of Symantec's security intelligence with Blue Coat's security telemetry has given Symantec access to the industry's largest diverse set of data that can be analyzed to prevent attacks proactively.

Article continues below advertisement
Strategic initiatives and market approval has provided a boost to Symantec's stock
Symantec's strategic acquisition of Blue Coat Systems, its dominance in the security software space, and its improved guidance enabled analysts to revise their opinions about the company. The market's view of the company improved, providing a stimulus to the stock, and it rose ~48% over the last six months. If the company exceeds analysts' expectations in its 2Q17 results, its stock could get another boost.
Guggenheim Securities' Ryan Hutchinson stated, "Symantec is one of few vendors in security to surpass $1 billion in annual revenue, with a strong presence across consumer and enterprise markets. While M&A [mergers and acquisitions] integration, a lack of strategic coherence, and executive turnover have caused Symantec to stumble over the past decade, we believe the company has finally turned the corner."
Symantec's stock got an upgrade from Wunderlich Securities, which now has a "hold" rating on the stock compared to its earlier "buy." The research house raised its price target to $30 from $23. Piper Jaffray has a "buy" rating on Symantec with a price target of $27.