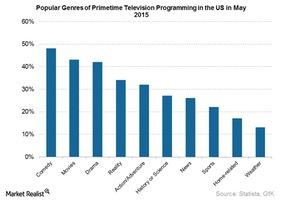 What's Keeping Netflix from Exploring More Content Genres?
By Shirley Pelts

Aug. 18 2020, Updated 5:28 a.m. ET
Netflix's views on content genres
Netflix (NFLX) continues to explore various programming genres. Earlier this year, Netflix stated in an interview with Benjamin Swinburne from Morgan Stanley (MS) and Peter Kafka from Recode that it doesn't want to be known only for its adult dramas and comedies. It said it also wants to be known for its programming intended for the family as a whole. The company is placing a particular emphasis on family programming, including shows such as Fuller House, Unbreakable Kimmy Schmidt, and Stranger Things.
Article continues below advertisement
Netflix was asked at the Goldman Sachs Communacopia Conference last month whether it considers itself similar to a television station in the future, offering a variety of content genres. Netflix said that although it would like to have something for every type of viewer, viewers will most likely use other streaming services such as HBO Now in addition to Netflix.
Netflix went on to say that it was "somewhat constrained" when it came to content genres due to the television broadcast model of 13 episodes per season. The company also said that the 13-episode format worked for the advertising industry and television syndication deals. It said, "We're producing in multiple production models. So only the ones where we are pure and we purely own it, where we are not looking — the producer is not looking for a secondary monetization or a tertiary, can we really experiment outside of today and that's the reason that you see a lot of our series are still in that 13 episode season format because they are co-produced with a broadcaster or they are in a model where you're seeing them in other places as well."
News programming
Netflix is exploring the news genre by streaming a weekly talk show hosted by Chelsea Handler. However, Netflix has ruled out specific news-based shows that involve news gathering since it doesn't foresee these shows fitting into its streaming business model.
As you can see in the above graph and according to a Statista report citing a GfK report from May 2015, the most popular television programming genres in the United States are sitcoms and comedies.