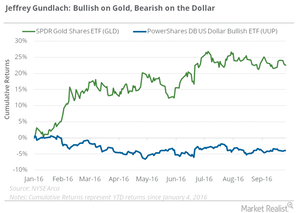 What Are Jeffrey Gundlach's Views on Gold and the US Dollar?
By Surbhi Jain

Updated
Gundlach identified the economy's turning points
In his latest webcast, "Turning Points," bond king Jeffrey Gundlach shared his views on the bond market and where it's heading. He also shed light on certain turning points on the economic front that seem to hint at a recession. He presented charts to support his views as well, which we have discussed throughout this series.
Gundlach also had something to say about assets other than bonds and stocks like gold (GLD) and the US dollar (UUP).
Article continues below advertisement
Gundlach on gold
Gundlach is bullish on gold. He did contemplate shorting certain gold miners (GDX) though. He said during his webcast that he continues to hold gold for now.
Gundlach on the US dollar
According to Gundlach, the US dollar could start to fall. Gundlach believes that increasing rates don't necessarily correlate with a strengthening dollar as popular opinion may lead investors to believe. Gundlach cited a recent instance in support of his belief. Interestingly, the US dollar fell 7% when the Fed raised rates in December 2015.
For more such analysis on asset managers and their market (IWM) (QQQ) opinions, please visit Market Realist's Active Management page.