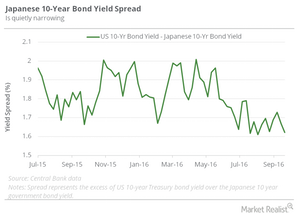 Gundlach's Advice to Japanese and European Investors in US Treasury
By Surbhi Jain

Nov. 22 2019, Updated 6:35 a.m. ET
A zero-sum game
Negative yields in Europe (FEZ) (VGK) and Japan (EWJ) (HEWJ) may make the US Treasury seem really attractive for sovereign debt investors from these regions. However, bond king Jeffrey Gundlach has some advice to these investors.
Article continues below advertisement
The spread is narrowing
Investors from Europe or Japan who invest in the US Treasury debt (TLT) should take note that the foreign exchange effect is such that effectively, investors wouldn't get anything from their investments in US Treasury bonds. In fact, the spread has been narrowing, as the chart above shows.
German ten-year yields are up 13 basis points from their low and Japanese 10-years are up over 20 basis points from their low. So, yields across the globe are quietly rising.
Treasury returns are falling
Meanwhile, US Treasuries are set for their second consecutive month of losses for the first time this year. The BofA Merrill Lynch U.S. Treasury Index, which tracks the performance of US Treasury bonds with a maturity of one to three years, shows that returns from US Treasury bonds have been falling in recent months.
Let's also take a quick look at Jeffrey Gundlach's take on certain other asset classes.