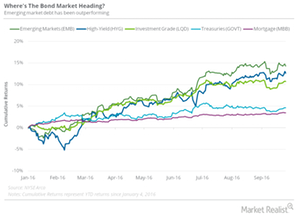 Jeffrey Gundlach: Where's the Bond Market Heading?
By Surbhi Jain

Nov. 22 2019, Updated 6:35 a.m. ET
Emerging market debt has been outperforming
Jeffrey Gundlach shared his views on the bond market and where it's heading in his latest webcast, "Turning Points." According to Gundlach, emerging market debt (EMB) has been outperforming so far this year, followed by high yield (HYG) and investment-grade corporate bonds (LQD). Mortgage debt (MBB) has been underperforming, while Treasuries (GOVT)(TLT) are somewhere in the middle. So, there is a lot of variation in terms of bond-market returns so far this year.
Article continues below advertisement
Where's the bond market heading?
Gundlach observes that the two-year Treasury yield has bottomed out, while the five-year Treasury is also almost double its mid-2012 lows. The ten-year Treasury is what particularly worries Gundlach. It's at 1.5%. It stood at 1.39% in mid-2012. However, it did breach that 1.39% level to mark a low of 1.32% on July 6 of this year. However, it didn't hold below that level. The ten-year Treasury market experienced a throw-over, which means the markets rejected the new low.
The long bond (30-year Treasury bond) experienced a similar throw-over recently. It recorded a minor new low of 2.09% in July this year, breaching the low of 2.22% that it had recorded in early 2015. However, the markets rejected the new low, and it's now back to 2.22%.
Gundlach believes that between now and the end of the year, the ten-year yield will be higher. Right now, he recommends that bond investors get defensive.