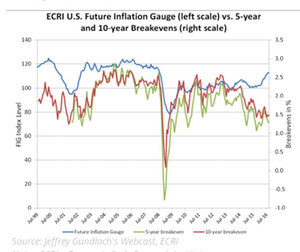 Why Jeffrey Gundlach Believes Inflation Could Rise
By Surbhi Jain

Updated
Gundlach sees inflation going up
Another indicator that bond king Jeffrey Gundlach of DoubleLine Capital follows closely is the ECRI US Future Inflation Gauge (or FIG).
The FIG has been more or less correlated with the five-year and ten-year break-even levels. If you were to plot this inflation gauge against the five-year and ten-year break-evens, you see a divergence between the break-evens and the inflation gauge, according to Gundlach. However, he also makes clear that such divergences have tended to converge in the past.
The chart above indicates some uptick in the ten-year break-even rate, and less in the five-year break-even rate, while the inflation gauge is following a definite uptrend. This shows that the market (SPY) (IVV) (VOO) is currently associating some inflation risk over the longer term.
Article continues below advertisement
Is a policy shift likely?
This rationale serves as the basis for Gundlach's prediction of a shift in policy away from bond buying. We'll discuss Gundlach's policy shift predictions later in this series.
Wages and core inflation are rising
Another chart that Gundlach looks uses to bolster his belief about inflation risk brewing is a chart that depicts average hourly earnings versus core inflation (core CPI and core PCE) estimates. Notice that all of these are in an uptrend. Now, about two-thirds of the core CPI basket comprises of shelter. Shelter going up, however, doesn't bode well for the consumer discretionary (XLY) sector. This is precisely why Gundlach is shorting certain restaurant, retail (XRT), and airline stocks, which we'll discuss next.