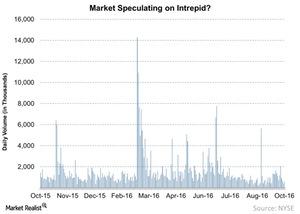 Intrepid Potash Approaches Penny Stock Status—Risky, or Not?
By Adam Jones

Updated
Traders, listen up
On October 4, 2016, Intrepid Potash (IPI) closed at $1.09 per share and has now fallen 64.5% YTD (year-to-date). The company has traded at a 52-week low of $0.65 and as high as $7.14. As you can see, IPI is close to becoming a penny stock (when a stock trades below one dollar) and is thus highly risky. This trend is also evident in the company's wide bid-ask spread as of its closing price on October 4.
Article continues below advertisement
Market speculating?
Let's try to understand this trend by looking at it in greater detail. The company's bid-ask price at closing time on October 4 was $1.06/$11.11, which is a spread of $10.05. This means that if you had purchased Intrepid Potash on October 4 before the close, you would pay the offer of $11.11 per share. But if you were to turn around and sell the stock, you would hit the bid at $1.06 per share, incurring a loss of $10 per share. While the spread can narrow up during peak trading hours, investors must always watch out for how wide the spread is.
By comparison, PotashCorp's (POT) latest spread at close was $0.18 while Israel Chemicals' (ICL) latest spread was $0.03.
Usually, a penny stock trades on the OTC (over-the-counter) market, but Intrepid continues to trade on the NYSE (New York Stock Exchange). The stock also has an average three-month volume of about one million shares, according to NYSE. This level is fairly liquid for a company with a market capitalization of just under $89 million, as compared to Agrium (AGU), which has a three-month trading volume of 0.76 million shares and a market capitalization of about $12 billion.
The fundamentals
It appears, then, that the market is betting on Intrepid Potash based on fundamentals. The company's presence in potash fertilizer, which will see an ever-growing demand with an ever-growing population, seems to be the best rationale for taking a position in the company.
However, to reiterate, one must keep a track of potash prices (XLB), because it all depends on how they move this coming year. To do this, check out Market Realist's weekly price update series, starting with the latest, A Key Look at How Agricultural Chemicals Performed Last Week.