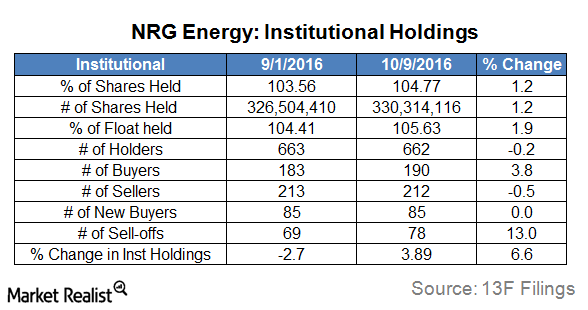 What Institutional Investors Are Saying about NRG Energy
Institutional holdings in NRG Energy
In this article, we'll look at how institutions have changed their NRG Energy (NRG) holdings recently. The percentage of float held by institutional investors in NRG Energy rose more than 1% in September 2016.
A company's float refers to the number of shares available for trading. Float can be more than 100% if shares sold short are reborrowed and sold again.
Article continues below advertisement
Are institutional investors bullish on NRG?
NRG's sharp drop in the last couple of months may have renewed investor interest in NRG Energy. Notably, the percentage of float held by institutional investors in NRG rose from 104.4% at the end of August 2016 to 105.6% on October 9, 2016.
For NRG, the number of new buyers stayed neutral, and the number of sellers fell marginally as of October 9, 2016. The number of buyers rose nearly 4%, and the number of sell-offs increased 13%.
Vanguard Group, T. Rowe Price, and Hotchkis and Wiley Capital Management were a few of the top institutions holding NRG Energy on October 9, 2016. They own 11.0%, 10.6%, and 8.4%, respectively, of NRG's float.
NRG Energy is one of the most volatile stocks in the S&P 500 Utilities (XLU) universe. Its beta stands above one, while regulated utilities' average beta is below 0.5. NRG's volatile earnings fuel the stock's volatility, which makes it relatively risky for conservative investors. Its dividend trimming early this year has also pulled down its yield substantially.