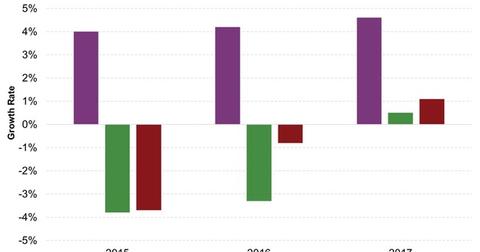 Why the IMF Expects Brazil and Russia to Remain in Recession
By David Ashworth

Updated
Brazil's in recession, but is its situation improving?
The IMF (International Monetary Fund) expects the economy of Brazil to fall 3.3% in 2016, following its 3.8% decline in 2015. Importantly, the institution expects Brazil to see a rise in economic output by 0.5% in 2017. IMF's forecasts for 2016 and 2017 have risen 0.5 percentage points from the April outlook but have remained unchanged from the July forecast.
In its October World Economic Outlook report, the IMF noted that although Brazil continues to be in recession, "activity appears to be close to bottoming out." The institution believes this because it views the effects of past shocks, including the sharp correction in commodities prices that have hurt the country, which is a large commodity exporter, while the administered price adjustments of 2015 and political uncertainty wear off.
Article continues below advertisement
Brazilian stock markets and associated instruments (EWZ) have had a phenomenal year so far, and the impeachment of Dilma Rousseff has helped fuel the rise most recently. The sharp uptick in equities has been such that ETFs investing in Latin America (ILF) have also benefitted from exposure to Brazilian equities.
But if you missed this bull run, you'll need to be a bit cautious about Brazil going forward. Having some exposure seems prudent, but going overboard at this juncture may not be wise. The current rally is mostly sentiment-driven and full of hope for the future, but macroeconomic fundamentals will need to support the rally, or else it will fizzle out.
Improved prospects for Russia
The IMF sees Russia in recession this year, but the pace has been sharply lowered to -0.8% from the -1.8% projected in April and the -1.2% projected in July. In 2017, the IMF sees the Russian economy growing by 1.1%, which represents an uptick of 0.3 percentage points from its April projections.
The IMF also stated that the country's economy is showing signs of stabilization after suffering the fall in crude oil prices, which hurt companies like Lukoil (LUKOY) and Tatneft (OAOFY), and political sanctions.
That said, Russia-focused ETFs (RSX) (ERUS) have done very well so far in 2016. Improved economic prospects and the current revival in crude oil prices should work out well for Russian stocks. So while Brazil and Russia are still trying to find their feet, these markets may become inviting investment prospects if more stability takes root.