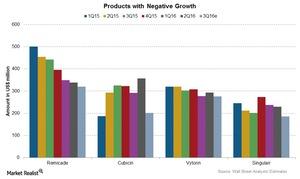 How Merck's Blockbuster Drugs Are Impacting Its Revenue
Products offsetting growth  
Merck & Co. (MRK) has seen the negative revenue impact of lower sales levels for a few of its blockbuster drugs, including Remicade, Cubicin, Zetia, and Vytorin.
Article continues below advertisement
Remicade  
Remicade is one of the top-selling drugs for the treatment of inflammatory diseases. It's marketed by Merck in Europe, Russia, and Turkey. Remicade's revenues have fallen constantly due to the entry of generic competitors and biosimilars following the loss of its exclusivity in European markets in February 2015.
Remicade's revenue is expected to fall over 27% to $320 million in 3Q16, compared to $442 million in 3Q15. Remicade is also marketed by Johnson & Johnson (JNJ) in certain countries.
Cubicin
Cubicin is a drug for the treatment of bacterial infections of the skin and skin structure infections. Analysts estimate a fall of over 38% in Cubicin's revenue to $201 million in 3Q16 compared to $325 million in 3Q15.
Article continues below advertisement
Vytorin
Vytorin is a blockbuster drug from Merck's cardiovascular franchise, used to lower LDL cholesterol levels in the blood. Analysts expect Vytorin's revenue to fall ~8% to $276 million in 3Q16 due to its loss of exclusivity in the United States. Vytorin's competitors include AbbVie's (ABBV) Niaspan and Pfizer's (PFE) Lipitor.
Singulair
Singulair is a leukotriene receptor antagonist used as a maintenance treatment for asthma and exercise-induced bronchoconstriction. Analysts' estimates show a fall of ~8% in Singulair's revenue to $185 million in 3Q16, compared to $201 million in 3Q15. Singulair competes with generic products from Mylan (MYL) and Teva Pharmaceuticals (TEVA), among other companies.
Investors can consider ETFs such as the Fidelity MSCI Healthcare Index ETF (FHLC), which holds 5.4% of its total assets in Merck, in order to diversify risk.