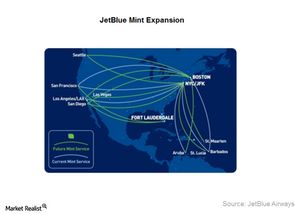 How Is JetBlue Tackling Its Virgin America Loss?
By Ally Schmidt

Oct. 19 2016, Updated 11:04 a.m. ET
Alaska Air Group acquires Virgin America
On April 4, 2016, Alaska Air Group (ALK) acquired Virgin America (VA) for $57 per share in cash for a total of $2.6 billion. 
Following the merger, Alaska Air Group will replace JetBlue as the fifth-largest airline in the United States, after American Airlines (AAL), United Continental (UAL), Delta Airlines (DAL), and Southwest Airlines (LUV). JBLU forms 0.85% of the holdings of the Guggenheim S&P MidCap 400 Pure Growth ETF (RFG).
What will come as a bigger pain to JetBlue is the lost opportunity for expansion into the West Coast, a market it's virtually absent from, barring one small city. Both Virgin America and Alaska Air are strong operators in the area, but the routes they serve are very different.
Article continues below advertisement
JetBlue expands organically
As soon as JetBlue decided to end its bidding war with Alaska Air, it announced its plans to expand organically in the West Coast. It introduced services to four new cities in the area, including San Diego, Seattle, Fort Lauderdale, and San Francisco.
Since then, JetBlue has been continually expanding in the West Coast. In early August 2016, it increased its service at Long Beach to 35 daily departures. At the end of August, it announced new flights from Fort Lauderdale. In September, it introduced new flights from both Fort Lauderdale and San Francisco.
Mint service
Initially, JBLU's premium Mint service was launched only as a means to bridge the revenue gap on transcontinental routes. After Mint's success on the Boston and Caribbean routes, JetBlue is now introducing the premium service on all new routes in the West Coast.
Mint has hit two targets. With its differentiated offering, it appeals to Virgin America customers, and it's also helping JetBlue to improve its unit revenue performance.
Given Virgin America's high valuation, leaving its acquisition to Alaska Air may have been a good decision for JBLU. If the company can complete its West Coast expansion successfully, it will prove to be the icing on the cake.