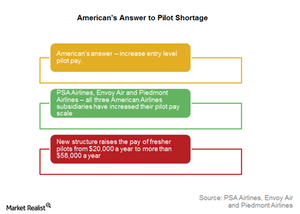 How Is American Airlines Trying to Cope with the Pilot Shortage?
By Ally Schmidt

Oct. 10 2016, Updated 7:04 a.m. ET
Regional subsidiaries
American Airlines' (AAL) pilot shortage is mainly with its subsidiaries, which are used to transfer travelers to American Airlines' hubs. The pilots at these subsidiaries can also move on to become American Airlines pilots, which is one of the major reasons pilots are flying for these subsidiaries at pay as low as $16,000–$20,000 per year.
However, the high costs of becoming a pilot have rendered this impractical. The subsidiaries have been finding it increasingly difficult to attract new talent. American Airlines' answer has been to hit the issue head on by increasing the pay for entry level pilots.
Article continues below advertisement
Increases in pay
PSA Airlines, Envoy Air, and Piedmont Airlines—all American Airlines subsidiaries—have increased their pilot pay scale.
PSA has increased wages from $24.62 per hour to $38.50 per hour. Envoy has increased its pay from $25.84 per hour to $37.90 per hour, and Piedmont has raised its pay from $29.38 per hour to $38.80 per hour.
All three airlines will offer a $15,000–$20,000 signing bonus and a $20,000 retention bonus to be paid in installments after one year of service.
This new structure raises the pay of new pilots from $20,000 per year to more than $58,000 per year.
Will it help?
Traditionally, legacy carriers have pressured their regional counterparts to cut costs and improve margins so their own profitability will improve. This has meant lower pay for regional pilots.
So American Airlines' pay increase for its pilots is just one industry improvement waiting to happen. However, it doesn't solve the industry's pilot shortage problem. It could merely help American Airlines' subsidiaries attract pilots from other air carriers.
Investors can take exposure to the airline industry by investing in the SPDR S&P Transportation ETF (XTN), which invests in Delta Air Lines (DAL), JetBlue Airways (JBLU), Spirit Airlines (SAVE), and Southwest Airlines (LUV).