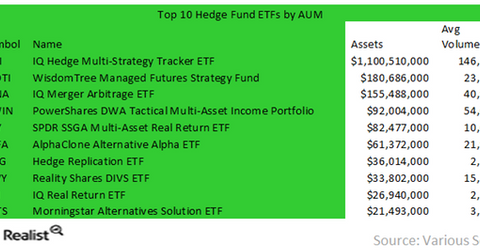 Comparing Hedge Fund Fee Structures and ETF Fee Structures
By Sanmit Amin

Nov. 27 2019, Updated 6:52 p.m. ET
Market Realist: Do you believe that some of the money in hedge funds and other professional managers will flow into products like those that Nasdaq/DWA offers?
Tom: Absolutely, in fact I think there are some ETFs now that offer you, under the ETF wrapper, a hedge fund structure [see Market Realist's take below]. Ultimately, that money's going to leave. If anyone sits down with their CPA, and the CPA tells them that the S&P 500 is beating them, and they're paying 2% to gain exposure to something that can be owned with a much lower expense ratio, some investors may probably consider moving their money into a lower fee structure.
Article continues below advertisement
Market Realist's View: Hedge fund fee structure versus ETF fee structure
While the average US equity mutual fund charges 1.5% in annual expenses, the average equity ETF tends to charge significantly less than this. Most ETFs are index funds, and tracking an index is usually less expensive than active management. ETF trades take place with other investors—not with the fund company itself.
Meanwhile, hedge funds are built to outperform an index, and most charge a management fee and a performance fee (the "2 and 20" fee structure, wherein a hedge fund charges investors a 2% management fee on the account balance and a 20% performance fee on gains, is an example of this). In some cases, mechanisms in fund documents may protect investors from paying performance fees during periods of negative returns, such as high-water marks.