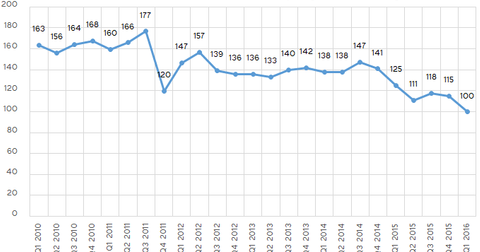 Will Hard Drive Shipments Fall for Seagate and Western Digital?
By Adam Rogers

Updated
Market shipments projected between 111 million and 114 million units
According to Storagenewsletter.com, worldwide HDD (hard disk drive) shipments are expected to be in the range of 111.5 million to 114.5 million units in 3Q16, which ended in September 2016. While shipments are expected to rise 13.1% to 16.2% quarter-over-quarter (or QoQ), they're expected to fall 3.4% to 6% YoY (year-over-year). The chart below shows the decline in HDD shipments which fell from 163 million units in 1Q10 to 138 million units in 1Q14 and 125 million units in 1Q15.
Three major players in the global HDD market
Article continues below advertisement
The worldwide HDD markets consist of three major players—Seagate (STX), Western Digital (WDC), and Japan's (EWJ) Toshiba (TOSYY). Western Digital leads the market with a share of 41.6%, followed by Seagate at 35% and Toshiba at 23.4%. According to research by Storagenewsletter.com, Seagate's shipments will rise 5.7% to 8.4% QoQ and will be between 39 million units and 40 million units for 3Q16. This change, however, means a significant YoY fall of 15.3% to 17.4% in unit shipments.
Western Digital is projected to ship between 46.5 million to 47.5 million units. This forecast represents a rise of 15.9% to 18.4% QoQ and a fall of 8.2% to 10.1% YoY in unit shipments for 3Q16. Toshiba is the only firm that might post both QoQ and YoY HDD shipment increases in 3Q16. Toshiba is projected to sell between 26 million and 27 million units in 3Q16. This indicates a rise of 20.6% to 25.3% QoQ and 32.5% to 37.6% YoY for the firm.