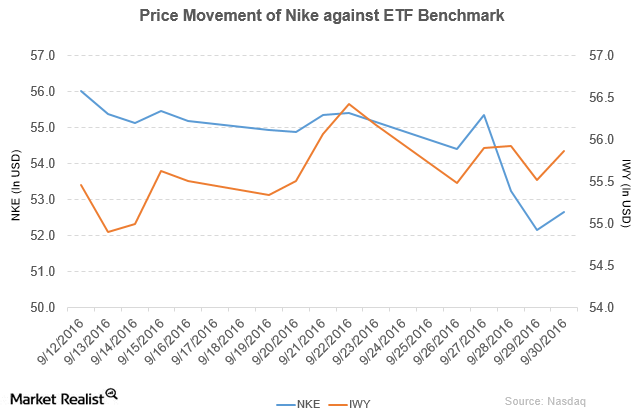 Guggenheim Has Rated Nike a 'Buy'
Price movement
Nike (NKE) has a market cap of $88.3 billion. It rose 0.94% to close at $52.65 per share on September 30, 2016. The stock's weekly, monthly, and year-to-date (or YTD) price movements were -4.5%, -8.4%, and -15.1%, respectively, on the same day.
NKE is trading 5.2% below its 20-day moving average, 6.5% below its 50-day moving average, and 9.3% below its 200-day moving average.
Article continues below advertisement
Related ETF and peers
The iShares Russell Top 200 Growth (IWY) invests 0.98% of its holdings in Nike. The ETF tracks an index of US large-cap growth stocks selected from 200 of the largest US companies by market cap. The YTD price movement of IWY was 4.3% on September 30, 2016.
The market caps of Nike's competitors are as follows:
Nike's rating
Guggenheim has initiated coverage of Nike with a "buy" rating and set the stock's price target at $70 per share.
Performance of Nike in fiscal 1Q17
Nike reported fiscal 1Q17 revenues of $9.1 billion, a rise of 8.3% from $8.4 billion in fiscal 1Q16. Revenues from its footwear, apparel, and equipment brands rose 6.8%, 8.9%, and 3.7%, respectively, and revenues from the global brand division fell 42.3% between fiscal 1Q16 and fiscal 1Q17.
Revenues from North America, Western Europe, Central and Eastern Europe, Greater China, and Japan rose 6.1%, 7.4%, 9.7%, 15.1%, and 36.9%, respectively. Revenues from emerging markets fell 2.2% YoY (year-over-year) in fiscal 1Q17. The company's gross profit margin fell 4.2% YoY.
The company's net income and EPS (earnings per share) rose to $1.3 billion and $0.73, respectively, in fiscal 1Q17, compared with $1.2 billion and $0.67, respectively, in fiscal 1Q16.
Nike's cash and cash equivalents fell 18.1%, and its inventories rose 10.9% YoY in fiscal 1Q17. Its current ratio fell to 2.7x, and its debt-to-equity ratio rose to 0.74x in fiscal 1Q17 compared with 2.8x and 0.61x, respectively, in fiscal 1Q16.
In fiscal 1Q17, Nike repurchased 19 million shares worth ~$1.1 billion. On August 31, 2016, it scheduled the delivery of $12.3 billion in orders between September 2016 and January 2017. This figure translates to a 5% YoY rise in orders and a 7% rise on a currency-neutral basis.
Next, we'll take a look at Coach (COH).