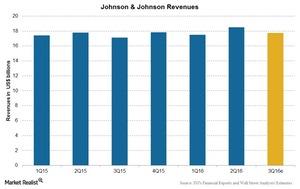 Good News: Johnson & Johnson's 3Q16 Revenues Expected to Rise
Johnson & Johnson's revenue estimates
Analysts expect Johnson & Johnson's (JNJ) 3Q16 revenues to rise 3.7% to ~$17.7 billion. The expectation comes on the back of an increase in sales of its blockbuster drugs Remicade, Stelara, Olysio, Zytiga, and others, which should more than offset the negative impact of the foreign exchange. Analysts estimate a year-over-year rise of ~3.4% for 4Q16.
The above graph shows actual revenues and analysts' estimates for Johnson & Johnson since 1Q15. There are various factors that support the expectations for future revenues, which we'll look at in the rest of this series.
Article continues below advertisement
On an annual basis, Johnson & Johnson's revenues have risen over the past few years following the restructuring of its business segments and the strong performance of a few of its key products. These products include Xarelto, Zytiga, Remicade, Stelara, and Olysio. Revenues in 2015 fell ~5.7% to $70.1 billion compared to 2014. However, estimates show a rise of ~2.9% to $72.1 billion for 2016 and a rise of ~4.9% to $75.6 billion for 2017.
Segment-wise expectations for 3Q16
Johnson & Johnson's business is divided into three business segments:
Pharmaceuticals
Medical Devices
Consumer Healthcare
The Pharmaceuticals segment contributes nearly 47% of JNJ's total revenues. Its performance is expected to improve in 3Q16, mainly due to the operational performance of all its products. The performance will be partially offset by the expected lower sales of hepatitis C products under the infectious disease franchise.
The Medical Devices segment contributes nearly 35.0% to JNJ's total revenues. The segment is expected to report an operational growth that might be offset by the diabetes and orthopedics franchises. The divestiture of Cordis in October 2015 and the Ortho Clinical Diagnostics franchise in mid-2014 are further expected to negatively impact the growth rate for this segment. The growth for Medical Devices is expected to be driven by the orthopedics, surgery, and vision care franchises.
The Consumer Healthcare segment contributes nearly 18.0% to JNJ's total revenues. The company acquired NeoStrata in April 2016 for its skin care products franchise. This segment will be driven by operational growth in oral health products, over-the-counter products, and skin care products. However, the wound care franchise, women's health products, and baby care franchise may partially offset the growth in 3Q16.
In the rest of the series, we'll take a look at some of Johnson & Johnson's key products and their competitors. For example, Stelara competes with Abbott's (ABT) Humira, and Xarelto competes with Bristol-Myers Squibb's (BMY) and Pfizer's (PFE) Eliquis.
To divest some of the risk, you can consider the First Trust Nasdaq Pharmaceuticals ETF (FTXH), which holds 8.2% of its portfolio in Johnson & Johnson.