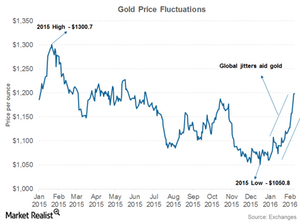 Global Economic Unrest Has Buoyed Gold in 2016
Precious gain
Gold rallied in the new year and quickly touched the $1,200 mark on February 8, 2016. Gold lost almost 10.3% in 2015. However, it has already risen a whopping 12.2% in 2016. Silver has followed gold and gained 10.4% on a year-to-date (or YTD) basis.
Weak manufacturing data from China, the biggest consumer of industrial metals, extended fears to platinum and palladium investors. Though platinum and palladium reacted to global weakness more as industrial metals than as precious metals, they, too, have started recovering from their earlier losses.
Platinum has recovered from its early 2016 losses and has risen about 4% on a YTD basis. Palladium is still recovering, with YTD losses of 8.1%.
Article continues below advertisement
Economic turbulence
The rise in precious metals, especially gold, also extended to ETF investments, including the VanEck Vectors Gold Miners ETF (GDX) and the SPDR Gold Shares ETF (GLD). These two investments have risen 22.1% and 12%, respectively, on a YTD basis.
Rises in gold are often celebrated by mining stocks such as the Harmony Gold Mining Company (HMY), Yamana Gold (AUY), and Newmont Mining (NEM). These three stocks have risen a whopping 83.7%, 18%, and 35%, respectively, on a 30-day-trailing basis.
As investors are jumping to haven assets, analysts keep wondering whether the current rally in gold is here to stay or will be short-lived. The supporting factors for gold are the current global economic turbulence, the prevailing Chinese market weakness, and the monetary easing policies of many countries.
On the other hand, there is a constant fear of further rate hikes by the Fed. This fear gripped gold enthusiasts in 2015 and may continue to do so in 2016.
Series overview
In this series, we will be highlighting Goldman Sachs' view on gold's potential going forward. We'll also discuss the crucial factors playing on gold in 2016.