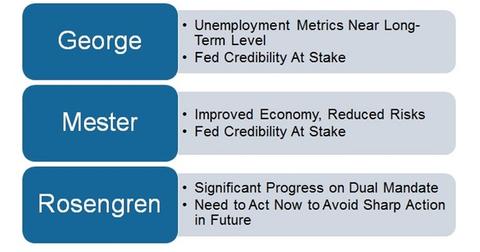 FOMC: Why Did George, Mester, and Rosengren Dissent?
By David Ashworth

Updated
The three dissenters
The September 2016 FOMC (Federal Open Market Committee) meeting was characterized by three dissents to the status quo on the federal funds rate. Esther George, Loretta Mester, and Eric Rosengren, chiefs of the Kansas City, Cleveland, and Boston Feds, respectively, were the three dissenting parties. The minutes of the September meeting presented their respective reasons for dissent.
Article continues below advertisement
Esther George's dissent
Esther George believed that since the unemployment rate and inflation were at or near their longer-run levels, a rate hike in the September meeting was required. She thought that a rate hike at the meeting would be in line with the prescribed frameworks of the suitable monetary policy stance.
The minutes noted, "She was concerned that the Committee's recent policy choices had incorporated too much discretion." She further opined that a wait would be detrimental to the Federal Reserve's credibility.
Loretta Mester's dissent
Loretta Mester had noted the improvement in the economy and viewed recent economic developments as positive going forward. Along with reduced risks to the outlook, the circumstance made her believe that it was appropriate to remove some monetary accommodation at this juncture.
She said, "A gradual path would give the Committee a better chance of recalibrating the policy path over time as it gains more insights into the underlying structure of the economy."
She was also worried about the credibility of the central bank.
Article continues below advertisement
Eric Rosengren's dissent
Eric Rosengren saw "significant progress" towards the FOMC's dual mandate since the last rate hike in December 2015. Like Mester, he was concerned that if an interest rate hike was not effected in the September meeting, the improving economy would require a sharp rate action in the future, "which could shorten, rather than lengthen, the duration of the economic expansion."
He had made no mention regarding the central bank's credibility, though.
Hawkish tone
Though the hawkish tone didn't have its way, the September meeting was quite a close call. Investors would do well to pay close attention to economic indicators going forward in order to gauge whether the November 1–2 meeting could be a live one.
An increase in the interest rate would initially hurt short-term bonds (SHY) (VCSH) but would also lead to a noticeable rise on the long end of the yield curve (VCIT) (IEF). Meanwhile, a rise in inflation would make inflation-protected ETFs (TIP) popular.