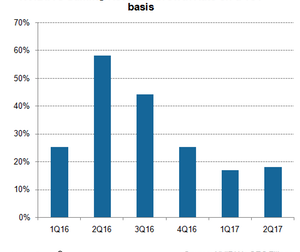 Gaming Market Turns into a Price War between Nvidia and AMD
By Puja Tayal

Updated
Nvidia's end markets
In the previous part of this series, we saw that Nvidia (NVDA) is expanding its Tegra processors end market while continuing to grow its GPU (graphics processing unit) revenues. The company supplies these products to the five key markets of gaming, data center, automotive, professional visualization, and OEMs (original equipment manufacturers) such as PCs and tablets.
In these five segments, gaming is the key market, accounting for ~55% of the company's revenue. Let's see how its gaming revenue could look in fiscal 3Q17.
Article continues below advertisement
Gaming revenue trend
Nvidia's (NVDA) Gaming segment's revenue grew 58% YoY (year-over-year) in fiscal 2Q16, and it maintained this momentum in fiscal 3Q16. This is because rival Advanced Micro Devices (AMD) wrote off obsolete inventory and lost market share to Nvidia. However, things have been a bit tough for Nvidia this time as its Pascal GPU received competition from AMD's Polaris GPU.
Nvidia versus AMD
Nvidia launched its Pascal-based GeForce GTX 1080 and 1070 targeted at high-end gamers in June 2016, allowing it to enjoy a month in the lead. However, by the end of June, AMD launched its Polaris-based Radeon RX 460 and 470, which were targeted at mainstream gamers at deeply discounted prices of $199 and $149, respectively. Although the two companies target different customers, Nvidia lost some market share to AMD.
Let the price war begin
To maintain its market share, Nvidia launched the GTX 1060 by mid-July at a moderate price of $249. The price war heated up, and the fight for market share became intense. Recently, Nvidia announced that it would launch the GTX 1050 and 1050 Ti at prices of $109 and $139, respectively. The company claims that the GTX 1050 Ti on average would be 40% faster and 128% more power-efficient than the RX 460.
In response, AMD cut the prices of its RX 460 and RX 470 to $100 and $170, respectively. While this price war would boost revenue, it would also impact the two companies' profit margins. However, this effect would most likely be visible in the December 2016 quarter.
Although AMD has an attractive price, Nvidia has higher performance, which makes it popular among high-end gamers. On the back of strong demand from the high-end market, Nvidia's Gaming segment's revenues are likely to see double-digit growth in fiscal 3Q17.
Nvidia (NVDA) won the order from Japanese (EWJ) console-maker Nintendo for its upcoming console, Switch, which is due to launch in March 2017. This could boost Nvidia's Gaming segment revenue in fiscal 1Q18.
Next, we'll look at the company's fastest-growing segment—the Data Center segment.