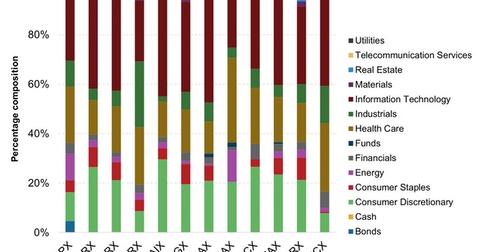 How Should Fund Investors Approach the US Presidential Election and the Fed's Impending Rate Hike?
By David Ashworth

Updated
US large-cap mutual funds
In this series, we've reviewed 12 US large-cap mutual funds in terms of sectoral composition and changes for three years leading up to September 2016. We've also looked at the reasons behind these funds' performances and analyzed what has worked for specific funds, and what has not. We've done this by comparing the returns of these funds with two ETFs—the iShares S&P 500 Growth ETF (IVW) and the iShares Russell 1000 Growth ETF (IWF)—and we've used the SPDR S&P 500 ETF Trust (SPY) as a benchmark to compare performance with passive funds.
Article continues below advertisement
Observations
The graph above shows the portfolio composition of all 12 funds that we have reviewed in this series. The Vanguard Growth Index Fund Investor Shares (VIGRX), being an index fund, can work as benchmark for comparisons of sectoral allocations. You can also compare your fund with VIGRX to see the sectors that your fund is betting on.
Fund investors' strategies
Two major events are upcoming for fund investors: the US Presidential election and a rate hike from the Fed. The timing of the first hike is certain, but the result is not, while the result of the second hike is relatively certain (25 basis points), but the timing is not. In such a scenario, fund investors should evaluate their investment horizons.
Of course, if you're a long-term investor or have recently invested, you don't have to do anything. Volatility from the aforementioned events will die down relatively soon, no matter how unexpected the results. On the other hand, if you're nearing the completion of your investment horizon and have accumulated substantial gains, it would be wise to liquidate or reallocate now to more conservative funds.
If you're invested for the medium term, you should decide if you're comfortable with the asset allocation of your actively managed fund. This would include any views you have on specific sectors, and our analysis here should help you shortlist the funds that suit your view. After making suitable changes to your actively managed fund holdings, you should hold on to them. Simultaneously, you can make use of passive funds to tackle volatility (USMV) (SPLV).
Remember, active funds have started doing better than passive funds—for the past three or four months, anyway. So you'd do well to take that fact into account as you choose an active fund that suits your needs.