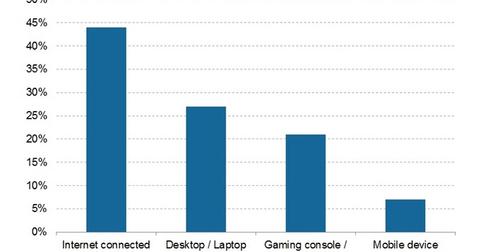 Good, Bad, and Ugly: The Factors Impacting Netflix's US Business
By Shirley Pelts

Updated
Netflix and the Internet ecosystem
The United States is Netflix's (NFLX) largest market, and it's a highly penetrated one. However, Netflix still believes that it will be able to have 60 million–90 million US subscribers in the long term.
Netflix stated during its 2Q16 earnings interview that this confidence stemmed from its belief the Internet ecosystem is developing in the United States. Netflix further stated that rising sales of smart television sets, Internet-connected devices, and virtual MVPDs (multichannel video programming distributors) were fueling the development of the Internet ecosystem.
Article continues below advertisement
The company stated, "We've got to stay on our toes on that basis, but think about entertainment and pay television are pretty ubiquitous. So in the Internet video, that's a pretty big bet that's continuing to pay off. So you put those two forces together and that's why we feel so good about the long-term in this market."
According to a report from comScore, and as the chart above shows, 44% of people prefer to watch Netflix via Internet-connected TV devices. Next in order of preference are desktops or laptops, gaming consoles or Blu-ray devices, and mobile devices.
Competitive landscape
Netflix is also facing increasing competition in the United States as streaming players such as Hulu prepare to launch their own online television services and other media companies launch their own direct-to-consumer offerings.
The company stated in an earlier earnings letter to its shareholders that because it had already reached a majority of subscribers in the United States, it could be increasingly difficult to continue to add new subscribers in the country.