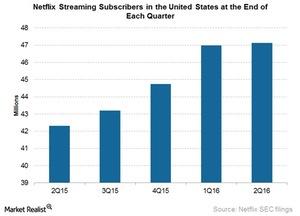 What Factors Could Affect Netflix's Subscriber Churn?
By Shirley Pelts

Updated
Netflix on subscriber churn
The United States is Netflix's (NFLX) biggest market, and it's a highly penetrated one. However, Netflix still believes it will be able to have 60 million–90 million subscribers in the long term in the United States.
Netflix said in a 1Q16 letter to its shareholders that in 2Q16 and 3Q16, it expects many of its US subscribers to be released from a price that was grandfathered in. They'll have the option to continue at the SD (standard definition) plan at $7.99 per month or move up to the HD (high-definition) plan at $9.99 per month.
Article continues below advertisement
The company also stated at its fiscal 2Q16 earnings interview that it expects this "un-grandfathering" to be completed by the end of this year. It also said that it expects its subscribers not to churn out but to choose between its lower-priced plan and the higher-priced one. As a result, it expects the growth of its ASP (average selling price) to be consistent.
However, in fiscal 2Q16, Netflix did see an increase in its subscriber churn. It was asked at the Goldman Sachs Communacopia Conference last month how many of these subscribers were expected to return in the next few months to a year. Netflix stated that about 33% to 50% of its churned out subscribers came back to the company.
In fiscal 2Q16, Netflix had around 47 million subscribers in the United States.
The impact of more original content on churn
Netflix also stated at the conference that when it comes to original content, it will continue to try to introduce a new title or a new season every month. The company believes that its content may appeal to its subscribers individually and that not all of its subscribers may be watching the same kind of content. This may help the company retain its subscribers.