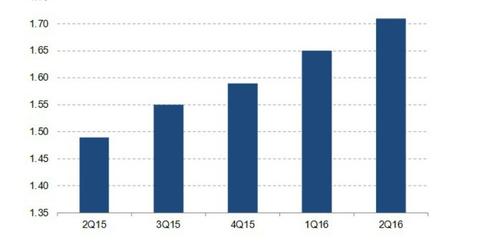 Facebook Sets the Table for Hungry Users
By Ruchi Gupta

Updated
Users can order food without leaving Facebook
Facebook (FB) has more ideas to encourage its 1.7 billion subscribers spend more time on the platform. In its latest development, the company has added a feature that supports ordering food and delivery from Facebook's business pages—without leaving the platform. The chart below shows Facebook's subscriber growth trend over the last five quarters through 2Q16.
Article continues below advertisement
Facebook users can order more than food
In addition to food, users can tap into Facebook's (FB) delivery service to order movie tickets or book an appointment with a hairdresser and other service providers.
Facebook has partnered with delivery services Slice and Delivery.com to support its new ordering feature, and it is open to bringing more couriers on board. Restaurants with in-house delivery services can deliver directly to customers who order through Facebook.
Is this a challenge to AmazonFresh?
Facebook's ordering and delivery feature can also be seen as a challenge to grocery delivery services offered by Amazon (AMZN) and Alphabet (GOOGL). The launch of Facebook's food delivery feature could slow the uptake of AmazonFresh and Google Express. Amazon collects $299 per year for AmazonFresh membership—$200 more than the regular Prime membership, making it one of Amazon's strategic new businesses.
Facebook may not be available in China, but Alibaba (BABA) still has to worry about integrating the ordering and delivery feature into the world's largest social network. Alibaba has interest in growing its online-to-offline business outside China, but what Facebook has started could slow its progress.
China's largest e-commerce operator was recently seeking to raise $1 billion in funding for local services platform Koubei after it earlier pumped about ~$1.3 billion into food delivery service Ele.me.
The food delivery market is heating up. Walmart (WMT) also recently pumped millions of dollars into the Chinese food market with a $50 million investment in food delivery provider New Dada.