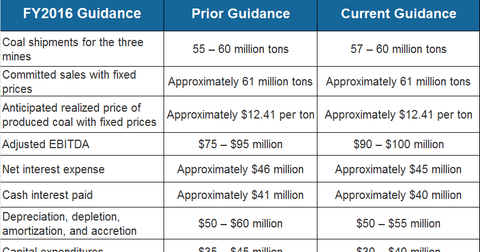 What You Can Expect from Cloud Peak Energy's Future Earnings
By Sheldon Krieger

Updated
Cloud Peak Energy's 2016 guidance
After its 3Q16 results, Cloud Peak Energy (CLD) revised the low end of its 2016 sales guidance by 2 million tons. CLD's current sales guidance for fiscal 2016 now stands at 57 million–60 million tons, as compared to 55 million–60 million tons at the end of 2Q16. This increase was done mainly to reflect the rapid improvement in the company's shipments in the second half of 2016.
However, the company's overall contracted shipment guidance with fixed prices remained unchanged at about 61 million tons for fiscal 2016. CLD expects to realize about $12.41 per ton on these contracted volumes.
Article continues below advertisement
Currently, the company is committed to selling 47 million tons in 2017. Out of 47 million committed sales, 45 million tons are on fixed-price contracts with a weighted average price of $12.34 per ton. CLD also contracted 1 million tons of Asian export sales to be delivered between November 2016 and February 2017.
Higher domestic shipment expectations and the addition of contracted 4Q16 export sales led CLD to increase its full year adjusted EBITDA (earnings before interest, tax, depreciation, and amortization) guidance from $75 million–$95 million to $90 million–100 million.
According to the company's 3Q16 earnings call, CLD completed the relocation of its dragline to its Antelope mine with less than the allocated budget. Lower-than-expected dragline relocation expenditures and the timing assessment of necessary maintenance of its equipment fleet led to a decrease in the company's capital expenditure guidance from $35 million–$45 million to $30 million–$40 million.
Article continues below advertisement
Analyst expectations
After CLD's 3Q16 earning results, analysts upwardly revised their future EBITDA estimates for Cloud Peak Energy. For the coming quarter, analysts now expect Cloud Peak's EBITDA to be around $31.6 million, as compared to their pre-3Q16 estimate of $27.0 million. Analysts' expectations are in line with the company's updated adjusted EBITDA guidance for 2016.
Outlook
Cloud Peak Energy's 3Q16 earnings are driven by strong operational performance. Also, improvement in domestic coal shipments helped the company to report higher EBITDA margins, both on a year-over-year and quarter-over-quarter basis. In the short-term, the sustainability of higher domestic and seaborne thermal coal prices is crucial for Cloud Peak Energy.
In the long term, natural gas prices, the fate of the US Clean Power Plan and other environment regulations will decide the future of Cloud Peak Energy and other pure-play coal (KOL) miners like Peabody Energy (BTUUQ), Alpha Natural Resources (ANRZQ), and Arch Coal (ARCH).