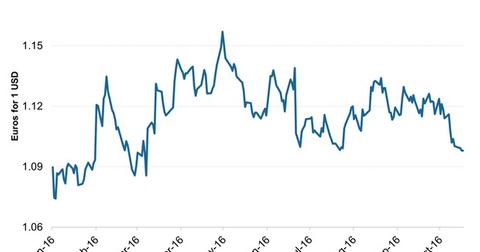 Euro Bears the Brunt of ECB Policy Announcement
By David Ashworth

Updated
Euro tanks against the dollar
The most visible impact of the ECB (European Central Bank) claiming that it had neither discussed extending its asset purchase program nor any tapering of it was on the euro (FXE). Initially, the unit had risen against the dollar as ECB chief Mario Draghi said that policymakers hadn't discussed extending its asset purchase program. This implied that the program may be terminated early, leading the euro higher against the US dollar (UUP).
Article continues below advertisement
However, later, he hinted that an abrupt end to asset purchases is not likely, bringing extension hopes back on the table. This led to the euro falling sharply from its highs to four-month lows. A lower euro is good for European exports, as it makes them more competitive. We can expect the euro to be volatile as we move towards the December meeting and if any signs of extension of the asset purchase program emerge.
What about December?
This brings us to a question of what will happen in the December meeting of the ECB. It's quite possible that the central bank may announce an extension of the program for two or three quarters beyond March 2017. The Eurozone economy isn't in terrible shape, but it remains to be seen how inflation trends. If core inflation rises, then the ECB may announce tapering sometime around mid-2017. If not, we may see another extension.
When talking about the agenda for the December meeting, Draghi said, "it's quite clear that our decisions in December will tell you what we are going to do in the coming months, and so they will define the monetary policy environment for the coming weeks and the coming months." This response gives credence to talk that there may be an extension announcement in December.
While equities (EZU) (VGK) would generally react positively, investors in currency-hedged ETFs like the WisdomTree Europe Hedged Equity Fund (HEDJ) and the Deutsche X-trackers MSCI Europe Hedged Equity ETF (DBEU) need to take into consideration the movement of the euro while deciding whether to stay invested or reallocate to unhedged funds.