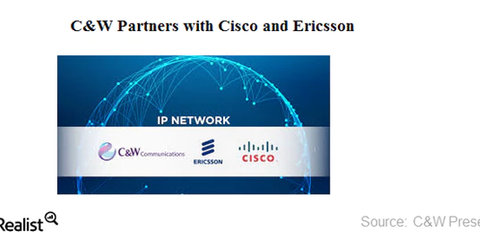 What Ericsson's Earnings Say about the Mobile Equipment Industry
By Adam Rogers

Updated
Shares of Cisco, Nokia also fell on October 12
As we learned earlier, shares of Ericsson (ERIC) fell 20% on October 12, 2016, when the company announced that its preliminary 3Q16 earnings were below expectations. Shares of peers Nokia (NOK) and Cisco (CSCO) also fell 5.6% and 2.3%, respectively, on the day.
We've already learned that the primary cause of Ericsson's slowing revenue has been reduced mobile broadband spending in markets such as Russia, the Middle East, and Brazil (BZQ). In addition, while Europe and other developed markets have almost finished with the 4G LTE (fourth-generation long-term evolution) rollout, the transition to 5G (fifth-generation) technology isn't expected to start before 2020.
Article continues below advertisement
Cisco, Nokia have broader product portfolios
Analysts believe that the revenues of companies such as Cisco and Nokia won't be affected as negatively as Ericsson's will. Both companies have broader product portfolios than Ericsson and are thus protected by cyclical headwinds arising from the mobile equipment industry.
Nokia completed its acquisition of Alcatel-Lucent this year, whereas Ericsson partnered with Cisco to fight the growing competition arising from China's (FXI) Huawei. A press release mentioned that the partnership could bring about incremental revenue of $1 billion for both companies in 2018. However, this synergy accounts for only 4% of Ericsson's total 2015 revenue.
Ericsson believes that Cisco's expertise in intellectual property and the enterprise space will complement Ericsson's expertise in mobile networks. This collaboration will focus on service providers, then on the enterprise space, where it will accelerate the adoption of IoT (Internet of Things) services across sectors.
In 2012, Huawei surpassed Ericsson as the world's largest telecommunications equipment vendor. In 2015, sales for Huawei rose 37% YoY (year-over-year), and sales in its Carrier segment rose 21% YoY, driven by its 4G LTE rollouts. In comparison, sales for Ericsson, Cisco, and Nokia rose 8%, 4.3%, and 6%, respectively, YoY in 2015.