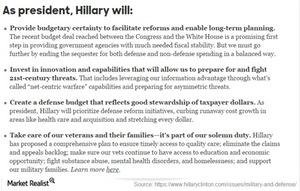 Elections up the Ante in Choosing Best Defense Stock Investment
By Shannon Black

Updated
Defense could defend your portfolio from political risks
With the US presidential elections upon us in a few weeks, investors may be looking for a cover that protects their portfolio from political risks. The nature of specifics offered by both Hillary Clinton and Donald Trump regarding their policies have been varied and differ from sector-to-sector. However, it does seem as if both are interested in strengthening the defense sector (PPA).
For this reason, in the upcoming elections, defense may indeed become the best offense for your portfolio. Credit Suisse, in one of its notes to its clients, said as much, citing L-3 Communications (LLL), Raytheon (RTN), and General Dynamics (GD) as its picks to hedge against the election cycle. However, Highland Capital Management, $17 billion asset Management Company, has said that defense would benefit from a Trump administration. According to the firm, Hillary Clinton is probably "neutral to positive" for the industry.
Article continues below advertisement
Trump had a few controversial statements related to scaling back defense spending on US allies. When questioned by an investor in the Citi Industrial Conference in June, Northrop Grumman's (NOC) Chief Financial Officer was quoted saying, "I would say there certainly is some concern out there in terms of some of the relationships with what have been long-standing partner countries, allied nations."
Hillary Clinton's got defense employees back
Defense firms have officially avoided taking sides in the ongoing presidential campaign. However, the top executives of these firms and employees working for these companies—judging from the campaign contributions—seem overwhelmingly in support of Clinton.
Generally, defense-related contributions have dominantly favored the Republicans. In the last presidential election, Mitt Romney raised more from defense political action committees and industry workers than Barack Obama was able to raise. However, since a bet on Donald Trump is virtually a shot at the unknown and the industry prizes predictability above everything else, Hillary Clinton appears to have the backing of employees in the defense sector.
In the next and final part, we'll look at Northrop Grumman's year-to-date returns.