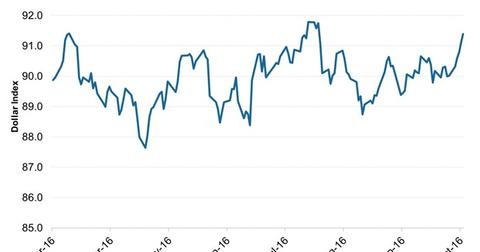 What's Driving the US Dollar?
By David Ashworth

Oct. 13 2016, Published 12:54 p.m. ET
Multimonth highs
The US dollar is at more than a six-month high compared to its peers. Let's take a look at the US Dollar Index, a basket weighing the dollar against the euro, the Canadian dollar, the Japanese yen, the British pound, the Swiss franc, the Australian dollar, and the Swedish krona, to assess the US dollar's rise over the past six months.
The primary reason for the rise in the greenback is the expectation of an interest rate hike in the United States. The Federal Reserve was expected to raise the federal funds rate several times this year, which led to a surge in the dollar late in 2015. A rise in interest rates, which is tantamount to the tightening of monetary policy, will likely lead to the strengthening of the US dollar.
Article continues below advertisement
Rate hike impact
A rise in interest rates leads to a rise in the US dollar, or any other currency in which interest rates are rising, because higher interest rates increase the domestic savings rate, leading to a capital inflow from overseas.
Since currency moves in pairs and sees relative changes, it's important to note that a rise in interest rates in the home country will likely have a visible impact on the domestic unit when other central banks are either holding their rates or lowering them. A simultaneous rise in interest rates in other countries will have little to no impact on the home currency.
Rate hike back on the table
Though the pace of a rate hike in the United States has been much slower than was predicted in 2015, any time discussion about a rate hike surfaces, it tends to strengthen the dollar. Meanwhile, bond prices (BND) (AGG) tend to fall in a rising interest rate environment.
With policymakers getting aggressive about a rate hike, the impact on the US dollar is visible. Changes in the movement of the greenback impact ETFs such as the PowerShares DB US Dollar Index Bullish ETF (UUP).
Some recent events that have impacted the US dollar include the recent flash crash in the British pound (FXB) and talks about the tapering of bond buying by the European Central Bank (FXE).