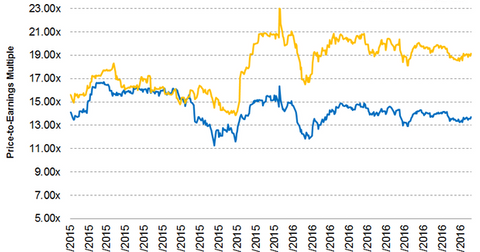 Why Dow Chemical's Valuation Is Lower Than Its Peers
By Peter Neil

Updated
Dow Chemical's forward PE
Forward PE (price-to-earnings) is a relative valuation method that considers a company's future earnings for calculation. As of October 18, 2016, Dow Chemical (DOW) was trading at a one-year forward PE multiple of 13.70x. DuPont (DD) was trading at a one-year forward PE multiple of 19.20x.
The forward PE ratio tells how much investors are paying per dollar of expected earnings in the next 12 months. Using a PE ratio, investors can compare two or more companies that operate in the same industry and decide which stock is overvalued or undervalued.
Article continues below advertisement
EV-to-EBITDA
The EV-to-EBITDA (enterprise value to earnings before interest, tax, depreciation, and amortization) multiple is an important relative valuation multiple that's widely used in capital-intensive industries such as the chemical industry. As of October 18, 2016, Dow Chemical's one-year forward EV-to-EBITDA stood at 7.80x, while DuPont's was 10.80x.
Peer comparison
Dow Chemical's valuation is on the lower side compared to DuPont's. In the prevailing tough economic conditions, Dow Chemical's revenue has fallen from $57.0 billion in 2013 to $48.8 billion in 2015. Analysts are predicting that it will fall more, to $46.7 billion in 2016. DuPont's revenue has fallen at a faster rate, from $35.7 billion in 2013 to $25.1 billion in 2015.
Although Dow Chemical's revenues fell at a lower pace than DuPont's in the past three years, DuPont, with its cost-restructuring program, has managed to post better net profit margins than Dow Chemical. The impact of the cost-saving program is clearly visible, since DuPont reported net profit margins of 14.3% and 14.1% in 1Q16 and 2Q16, respectively.
On the other hand, Dow Chemical's net profit margins were 9.1% and 8.3% for 1Q16 and 2Q16, respectively. Dow's margin is expected to fall further with the increase of interest expense by $30 million per quarter along with the increase in debt of $3.6 billion from the acquisition of the remaining stake in Dow Corning.
You can indirectly hold Dow Chemical by investing in the Materials Select Sector SPDR ETF (XLB), which has invested 11.8% of its holdings in Dow Chemical. Other major holdings of this fund include Monsanto (MON) and Praxair (PX), with weights of 8.8% and 6.6%, respectively, as of October 18, 2016.