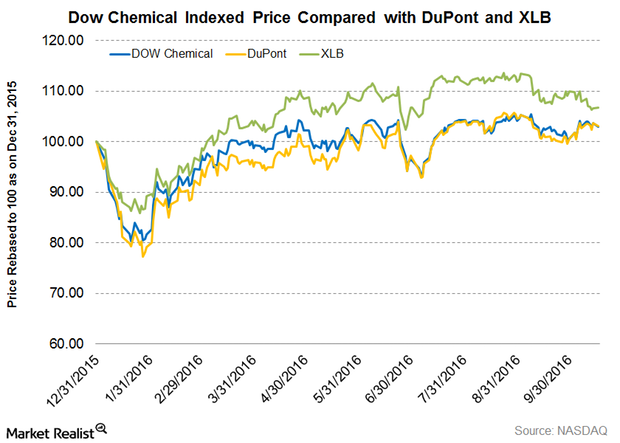 How Has Dow Chemical Stock Performed after 2Q16 Earnings?
Dow Chemical to announce its 3Q16 earnings
Dow Chemical (DOW), which is well known for its diversified business in specialty chemicals, is set to report its 3Q16 earnings in a conference call with securities analysts on Thursday, October 27, 2016, before the markets open.
In this series, we'll take a look at Dow Chemical's stock performance after its 2Q16 earnings. We'll also look at analysts' expectations for revenues and margins and their recommendations for the stock. Finally, we'll take a look at Dow Chemical's current valuations.
Article continues below advertisement
Dow Chemical's stock performance
Dow Chemical (DOW) stock has remained sideways since it announced its 2Q16 earnings on July 28, 2016. After shareholders for Dow Chemical and DuPont (DD) approved the merger proposal, investors have been eagerly waiting for regulatory approvals. On August 11, 2016, Dow and DuPont announced the commencement of the Phase II review by the European Commission. The commission will have 90 days to review the pending transaction.
With no major external factors that could influence the stock drastically, Dow's stock movement might continue to remain sideways in the future.
As of October 17, 2016, Dow Chemical stock has fallen 1.2% since its 2Q16 earnings release. DuPont stock has fallen 0.8%. Both these stocks managed to outperform the Materials Select Sector SPDR ETF (XLB), which fell 5.3% in the same period. On a year-to-date basis, Dow, DuPont, and XLB have risen 3.0%, 3.1%, and 6.8%, respectively.
The kind of returns generated by these stocks indicates a weak economic environment prevailing around the globe.
ETF investment
You can indirectly hold Dow Chemical by investing in the Materials Select Sector SPDR ETF (XLB), which has invested 11.8% of its holdings in Dow Chemical. Other major holdings of the fund include Monsanto (MON) and Praxair (PX) with weights of 8.8% and 6.6%, respectively, as of October 18, 2016.
In the next part, we'll analyze analysts' revenue expectations for Dow Chemical in 3Q16.