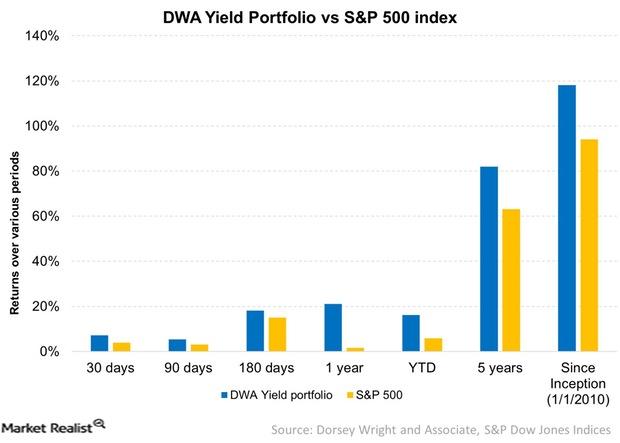 How the Dorsey Wright Income Model Works
By Sanmit Amin

Oct. 3 2016, Updated 1:04 p.m. ET
Market Realist: Would you agree that the right smart beta product is a rules-based product that is essentially an investment strategy encapsulated into a product?
Tom: Yes, I think that's probably the case. I coined the term "ETF Alchemy". We are something like alchemists. In chemistry, H2 + O = water. Those are 2 different particles put together to create something new. We do the same thing here. We find things that combine and match up to make a better product.
For example, we have the PowerShares DWA Tactical Multi-Asset Income Portfolio (DWIN), a multi- asset income product. You can take DWIN and add that to Guggenheim BulletShares funds (BSCI), which are laddered corporate bonds. You can also add our SPDR® Dorsey Wright® Fixed Income Allocation ETF (DWFI), and you might even add to that the iShares Barclays Aggregate Bond Fund (AGG), which is the generalized corporate catch-all bond ETF. You put all those things together into a fixed income account and you've really created something unique.
That's what Dorsey Wright is all about: not only creating these products, but finding an alchemic way to combine them.
Article continues below advertisement
Market Realist: You mentioned alchemy. There is a notion among certain investors that you cannot beat the market and that passive investing will win over time. What would you say to an RIA, advisor, or individual investor who thinks along those lines?
Tom: I would say that I agree, I think certain aspects of an investment process should be passive. However, let me clarify what I mean by passive investing. When you look at a particular model, such as our DWA Yield Model, that is going to own the five stocks in our Model. We select the stocks with the best relative strengths and the highest yields. Once I choose to put that brick in the wall, that goes into my portfolio, and I am going to be very passive with that. I know that if there is a change in that portfolio, Dorsey Wright will e-mail me and let me know that I need to sell a particular item there, and replace it with another item.
This can be understood in terms of baseball. You put your best pitcher on the mound at the start of the game. By the fifth inning, he starts to walk some of the opposing team, he has three home runs hit on him, the opposing team is beginning to steal bases on him. The coach, disconcerted, goes to the mound and asks the pitcher what's wrong. The pitcher says that his arm is sore. The coach sends him to the bullpen where the other pitchers are beginning to warm up and replaces him with the pitcher with the best relative strength.
Article continues below advertisement
That's what happens in a portfolio. So while I agree that passive investing is the right way to go, you need something extra in that game. The passive investor's thinking in the game is: "I own the team, but I'm going to sit up in the stands and watch the game. I have no intervention in the game. I've got the best coaches and players, and the coach will handle the team." So that is the passive side of the coin; there can still be some active decisions taking place.
Market Realist's View: How the Dorsey Wright income model works
The Dorsey Wright income model uses rules-based strategies, along with technical analysis and relative strength–based strategies, creating a portfolio that can benefit from current market trends. It selects five stocks with the highest-yielding dividends and screens them through a matrix. The stocks must also pass three technical attributes in order to be selected. Stocks are removed based on a deterioration in technical attributes. The advantages of this model include minimization of emotional intervention and optimization of potential gains.
The graph above [1. As of July 20, 2016. The returns for the DWA Yield Portfolio are model returns (they do not reflect trading in actual accounts) and do not include dividends or transaction costs.  Model returns do not represent the impact that material economic and market factors might have an investment advisor's decision making process where he managing client money.  Investors cannot invest directly in an index like the S&P 500.  Past performance is not indicative of future results.  Potential for profits is accompanied by possibility of loss.] compares the DWA yield portfolio with the S&P 500 (SPY)(VOO) over various periods. The former has outperformed the latter in the short and long terms, as you can see in the graph.