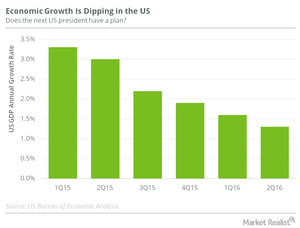 Trump or Clinton: Who Can Boost Economic Growth?
By Surbhi Jain

Nov. 22 2019, Updated 6:18 a.m. ET
Economic growth: Anchored
While Democratic presidential nominee Hillary Clinton and Republican presidential nominee Donald Trump battle it out on the campaign trail and Americans get ready to elect their next president, economic growth (SQQQ) (IWF) remains a rare commodity in the United States. Despite various policy measures, low interest rates, and quantitative easing programs, growth in the United States (SPY) (IWM) (QQQ) is still anchored.
According to data published by the Bureau of Economic Analysis, annual GDP growth in the United States was 3.3% at the beginning of 2015. It's now 1.3%, as you can see in the above graph.
Article continues below advertisement
National debt: Is it unsustainable?
The national debt has become what some believe to be a ticking time bomb and unsustainable over the long term. Public debt in the United States is roughly 77.0% of GDP, or about $14.0 trillion. That's about twice the average of the last 50 years. Economists estimate this figure to rise at least 9.0%–10.0% over the next decade. At its current growth rate, national debt would exceed 100% of GDP by 2033, according to projections by the CBO (Congressional Budget Office).
What the next US president must address
With growth stagnation and burgeoning debt steadily becoming characteristic of the US economy, it has become even more imperative for Americans to understand the economic implications of the presidential election. Here are some relevant questions about today's economic environment.
Will the next president of the United States be able to:
boost economic growth
stop the debt bomb from ticking
bridge the fiscal gap rather than widen it
In this series, we'll give you a snapshot of Donald Trump's and Hillary Clinton's views on the most pressing issues that the US economy is currently facing, including growth, debt, jobs, and trade deals. We'll look at what each candidate's plan or vision has to offer with regard to all these macroeconomic variables.