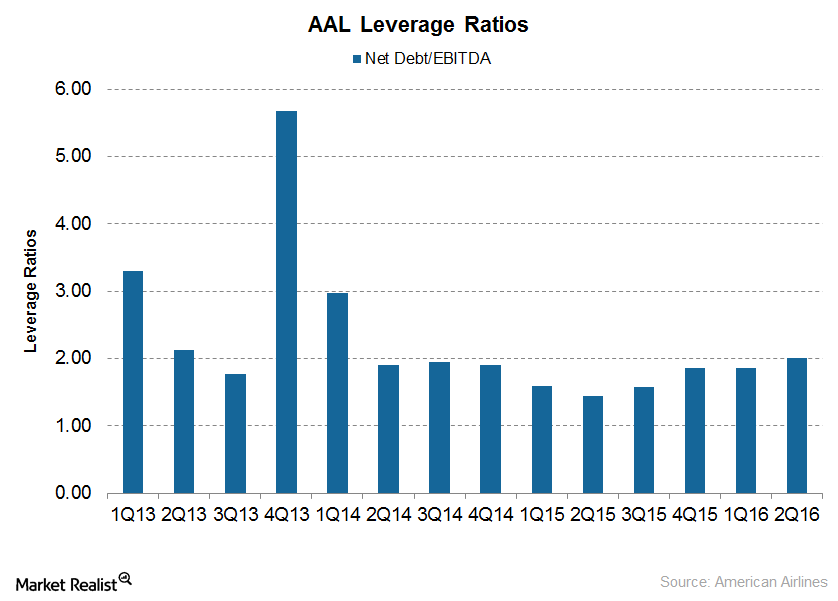 Does American Airlines Have the Highest Leverage in the Industry?
High debt
For American Airlines (AAL), 2015 was filled with solving integration issues associated with the US Airways merger. Thus, when most airlines have used the savings from the decline in fuel costs to reduce debt, AAL has paid little attention to debt. At the end of 2Q16, AAL's debt had increased to $22.8 billion.
Credit ratios have also started to decline since 1Q16, after showing continuous improvement since 4Q13 when the debt-to-EBITDA ratio touched a high of 9.5x. American Airlines' debt-to-EBITDA ratio has increased from 2.8x at the end of 2Q15 to 2.9x at the end of 2Q16. Its net-debt-to-EBITDA ratio also rose to 2.01x at the end of 2Q16 as compared to 1.5x at the end of 2Q15.
This is the highest among its peer group. At the end of 2Q16, the net-debt-to-EBITDA ratios for its peers were as follows:
Article continues below advertisement
Cash flows
However, AAL does have cash on its balance sheet, which will help reduce its debt significantly. At the end of 2Q16, American Airlines had ~$7.1 billion of cash and investments on its balance sheet against a total debt of ~$22.8 billion.
Future plans
Despite the cash balance, American still has huge debt on its balance sheet. Management still doesn't have a clear plan to reduce debt, so this is one of the important things to watch out for in the upcoming earnings call. It's important for investors to track AAL's leverage, especially given the fact that AAL emerged from bankruptcy in late 2013.
On the other hand, if AAL does manage to reduce leverage significantly, it would put AAL in a much better position to weather the next industrial downturn, whenever that happens. The iShares Edge MSCI Multifactor Industrials ETF (INDF) invests ~2.5% of its portfolio in American Airlines.