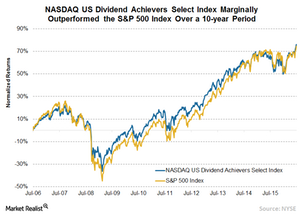 How Dividend Achievers Generate High-Quality Income Growth
By Peter Barnes

Oct. 3 2016, Updated 3:04 p.m. ET
Market Realist: Let's dive a little bit into the Alphadex® and Dividend Achievers products. Let's start with Dividend Achievers. Can you walk us through Dividend Achievers and its development, its goals, and some of its structural rebalancing aspects?
Dave: Sure. Dividend Achievers (PEY), at its core, is about identifying stocks that have consistently increased their dividends paid out within a calendar year, depending on the markets and their sectors. We take the US as our starting point. We look for companies that have increased dividends for 10 consecutive years and add them to a knowledge pool.  If you consider the broad US equity universe of investable securities, there are about 2,800 total stocks that are considered investable from an institutional perspective, of which about half pay dividends. Of those, really only between 200-250 have paid dividends and increased those dividends for 10 consecutive years. So as we start to filter from 2,800 or 3,000 down to about 1,500 down to about 200, that is, to me, a good sign of quality. These are companies that have strong shareholder policies – which is a proven contributor to generating returns. These companies want to help their shareholders generate returns, they've been around, they've had capital programs that they've been able to afford for over a decade and add to. Those are all indicative signs of quality, and that's really what the Dividend Achievers methodology is seeking out. Really, it's less of a yield story and more about high quality future income growth.
Article continues below advertisement
If we do go back to a rising rate environment, if, as you say, this cyclical bull market of fixed income ends and rates start increasing, the companies that somebody would want to own are the companies that have continuously outpaced inflation or outpaced interest rate increases with their own dividends. That way, in five years if you continue to own these companies, you're going to see a higher total payout five years from now that has likely outpaced the growth of interest rates, than you would just by buying the highest yielding stock or stocks that have other various dividend-related attributes that people can put together from an income perspective. That's the core tenet of Dividend Achievers.
From there, there are a lot of other things that we can do. We can focus on high yield, resulting in High Yield Dividend Achievers, or the 50 highest yielding stocks out of those names. And that produces a pretty interesting result, because we now have all the benefits of quality but with all the benefits of current yield, as well, so we're seeing a sizeable increase of yields. We also apply that framework to different markets.
Article continues below advertisement
Market Realist's View: The Dividend Achievers Select Index
The NASDAQ US Dividend Achievers Select Index comprises select securities with at least ten consecutive years of increasing annual regular dividend payments. As of June 30, the index has the most exposure to the industrials sector at 23.5%, followed by consumer goods at 23%, consumer services at 18%, healthcare at 12%, and financials at 7.8%. Johnson & Johnson is the largest constituent of the index at 4.3%, followed by Coca-Cola and Pepsico (3.9% each), Microsoft (3.7%), and Medtronic (3.1%).
The NASDAQ US Dividend Achievers 50 Index comprises the top 50 securities by dividend yield from the NASDAQ US Broad Dividend Achievers Index. The utility sector is the largest (at 25.6%) constituent of the index, followed by financials (17.1%), consumer goods (16.4%), oil and gas (11.1%), and industrials (9.1%). As of June 30, Vector Group is the largest constituent of the index at 3.9%, trailed by Oneok (3.2%), The Gap (3.1%)(GPS), AT&T (2.8%)(T), and Helmerich Payne (2.6%)(HP).
Dave: We've also done this for a product in Hong Kong but it's a broad Asian product wherein we look at companies that are increasing dividends in that market. So you see some of the same benefits that you see within the US market now applied elsewhere around the world.
Lastly, we have also applied the Dividend Achievers framework to the International (Ex-US) equity market. That index is known as the Nasdaq International Dividend Achievers™ Select Index. The difference between the US and international versions of the methodology is that a seven year dividend track record is utilized for the international space (and a ten year track record is utilized for the US space).