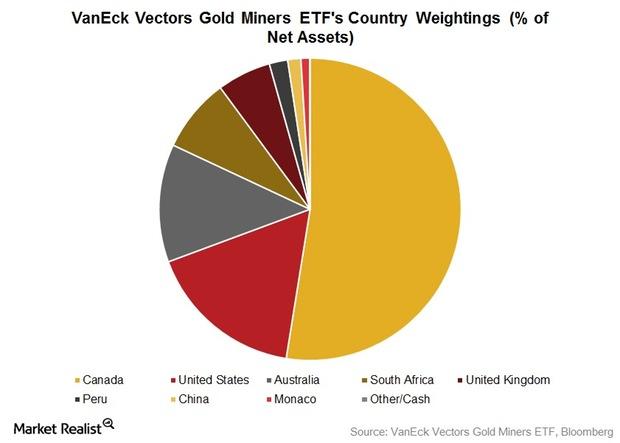 Diversified Gold Exposure with the VanEck Vectors Gold Miners ETF
By VanEck

Oct. 8 2020, Updated 1:26 p.m. ET
The Genesis of VanEck Vectors Gold Miners ETF (GDX)
The rationale behind choosing the passively managed approach is evident in the genesis of GDX, which launched in 2006 as the first gold miners ETF offered in the U.S. The underlying index for GDX is the NYSE Arca Gold Miners Index (GDMNTR) and when VanEck partnered with the American Stock Exchange (predecessor to NYSE Arca), the goal was to create a new market-cap weighted index that would provide investors with a better overall representation of the global gold mining industry. The Index also included silver companies because silver is highly correlated with gold. As the only two monetary metals, all other metals companies were excluded. Importantly, in creating the Index, position size was capped so that the Index could not be dominated by a handful of companies.
Article continues below advertisement
VanEck Vectors™ Gold Miners ETF (GDX) soon followed the creation of this Index and certainly provides some unique benefits, potentially not accessible through most actively managed strategies. GDX offers broad, diversified exposure to gold miners, is highly liquid, easy to trade, carries low fees, and supports a deep options market. It may also capture broad themes such as exploration successes, operating improvements, and cost reductions that are ongoing across the gold mining sector.
Market Realist – VanEck Vectors performance history
The VanEck Vectors Gold Miners ETF (GDX) seeks to replicate the price and yield performance of the NYSE Arca Gold Miners Index (GDMNTR), which is intended to track the overall performance of companies involved in the gold mining industry (XLI) (FXR). As of September 30, 2016, the weighted average market cap of GDX came in at $9.5 billion. The Gold Miners (GDXJ) ETF portfolio composition consists of 99.98% of stocks and 0.02% of cash. Holdings include 53 stocks, like Barrick Gold (ABX), Newmont Mining (NEM), and Goldcorp (GG). GDX's net asset value year-to-date return came in at 92.4%.