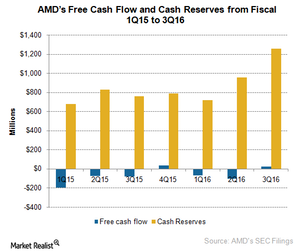 How Debt Restructuring Strengthened AMD's Balance Sheet
By Puja Tayal

Updated
Debt restructuring gives AMD much-needed financial flexibility
In the previous part of the series, we saw that Advanced Micro Devices (AMD) has reduced its expensive debt significantly and pushed a major portion of it to 2026. The fact that the company has no term debt maturing before 2019 gives it strong financial flexibility for the next two years.
These restructuring efforts will bring an annual interest savings of around $55 million, thereby increasing its cash flows, which earlier went to interest payments. Moreover, the restructuring has brought in an additional $162 million in cash proceeds, which the company can use for its growth efforts.
The financial flexibility would enable AMD to leverage the amended WSA (wafer supply agreement) more. Under the agreement, AMD can buy a certain amount of silicon wafers from Global Foundries. With the financial flexibility, AMD can increase this amount.
Article continues below advertisement
Cash flows
A 34% reduction in interest expense would enable AMD to convert its profits into FCF (free cash flows). As seen from the above graph, AMD had negative FCF in five of the past seven quarters due to net loss and high-interest burden.
In fiscal 3Q16, the company reported its first non-GAAP (generally accepted accounting principles) net profit in seven quarters. This converted into a positive FCF of $20 million due to a reduction in capital expenditure. The company expects to report positive FCF in fiscal 4Q16 as well.
Inventory
In fiscal 3Q16, AMD increased its inventory 4% sequentially to $772 million due to the anticipation of strong demand for its GPUs (graphics processing units) and semi-custom chips in the holiday season. The company expects its inventory to fall to $660 million in fiscal 4Q16. Even Intel (INTC) increased its inventory due to the anticipation of holiday sales.
AMD's growth efforts would materialize in fiscal 4Q16 and 1Q17. If everything goes well, the company might move to higher profits and positive FCF in fiscal 1Q17.