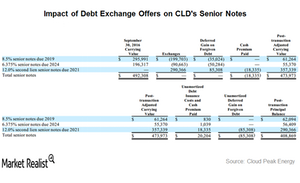 Will Debt Restructuring Improve Cloud Peak's Financial Position?
By Sheldon Krieger

Updated
Debt exchange offer
On October 17, 2016, Cloud Peak Energy (CLD) completed an exchange of $237.9 million of its 2019 notes and $143.6 million of the 2024 notes for $290.4 million of new second-lien notes due in 2021. It also made a $26-million cash payment to tendering holders of old notes. The cash payment also includes $7.7 million in accrued and unpaid interest.
After the debt exchange offer, a $62.1-million aggregate principal amount of the 2019 notes and $56.4-million aggregate principal amount of the 2024 notes will remain outstanding on the company's balance sheet. As a result, the book value of the company's long-term debt will be reduced to $473.9 million, as compared to $492.3 million at the end of 3Q16. However, the principle amount of CLD's outstanding senior notes will be reduced to $408.8 million, as compared to its prior value of $500.0 million.
Article continues below advertisement
Off-balance-sheet risk
CLD's off-balance-sheet risks include self-bonds and surety bonds. Recent bankruptcies in the coal (KOL) mining industry have heightened regulatory pressure on reclamation bonding and self-bonding in particular.
As of September 30, 2016, Cloud Peak Energy has posted $190 million in the form of self-bonds and $448.9 million as surety bonds with respect to the company's reclamation, lease, and other obligations. These surety bonds were backed by the collateral of about $71.3 million at the end of 3Q16.
However, the recent regulatory approval by the State of Wyoming Department of Environmental Quality would reduce CLD's self-bonding requirement to $10 million. Currently, Cloud Peak Energy expects to exit self-bonding by January 2017.
Cloud Peak Energy's liquidity position
According to company filings, Cloud Peak had $90.3 million in cash and cash equivalents on its books, with a total available liquidity of about $448.5 million as of September 30, 2016. This includes the company's aggregate borrowing capacity of approximately $328.7 million under its credit agreement, cash and cash equivalents and $29.5 million under the account receivables securitization program as of September 30, 2016.
Notably, the recent amendment to company's credit agreement replaced the quarterly EBITDA-based financial covenants with a new liquidity covenant. The new liquidity covenant requires the company to maintain a liquidity of at least $125 million as of the last day of each month.
With long-dated bond maturities, no future LBA (lease by the application) obligations, and manageable interest expenses, Cloud Peak Energy clearly stands out among pure-play coal miners like Peabody Energy (BTUUQ), Alpha Natural Resources (ANRZQ), and Arch Coal (ARCH). Alliance Resource Partners (ARLP) and CONSOL Energy (CNX) are coal mining companies that also have manageable amounts of debt.
In the next part, we'll conclude the series with an outlook for Cloud Peak Energy.