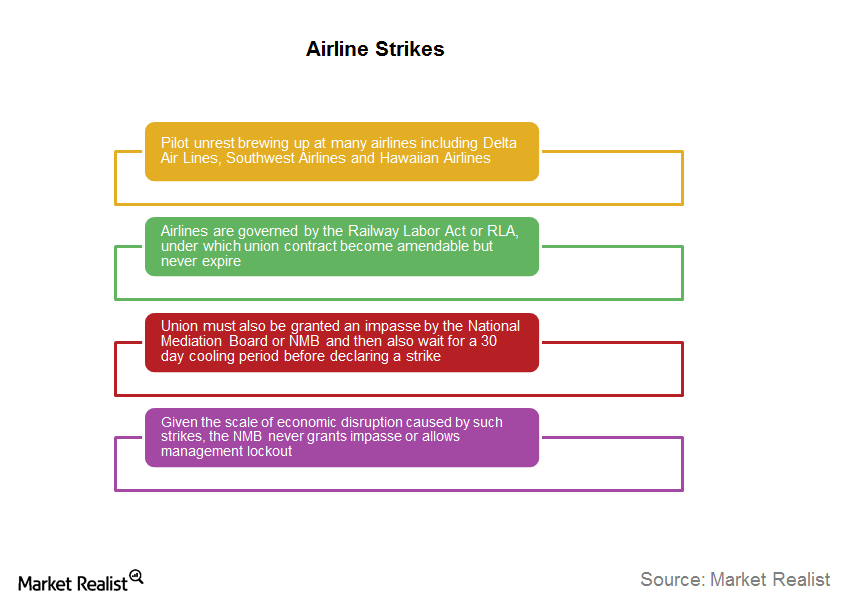 Could Pilot Strikes Become a Major Issue for the Airlines?
By Ally Schmidt

Dec. 4 2020, Updated 10:52 a.m. ET
Strike operations center
In mid-September 2016, the Hawaiian Airlines pilot union opened a strike operations center to operate in the event of a strike. Hawaiian Airlines and the union have been in negotiations for the past 18 months over its pilot pay scale. Their pilots have been claiming that they make 35%–45% less than industry standards.
The Hawaiian Airlines union isn't the only one that's doing this. The union for Southwest Airlines (LUV) pilots formed a strike preparedness committee after three years of negotiations with management. The unions for Delta Air Lines (DAL), United Continental (UAL), and American Airlines (AAL) don't seem to have these types of committees, possibly because they are very strong unions.
Article continues below advertisement
Strikes are a rare phenomenon
Strikes are very rare in the airline industry. This is because airlines are governed by the Railway Labor Act, under which union contracts are amendable but never expire. The union must be granted an impasse by the National Mediation Board (or NMB) and then have a 30-day cooling off period before declaring a strike.
Given the scale of economic disruption caused by strikes, the NMB rarely does that, nor does it allow management to impose a lockout. In fact, the last strike was by the Spirit Airlines (SAVE) union more than six years ago. At that time, it was three times smaller than Hawaiian Airlines is currently.
You can probably safely assume that pilot strikes will continue to be an extremely rare phenomenon, especially for large airlines. You can take exposure to the airlines industry by investing in the SPDR S&P Transportation ETF (XTN).