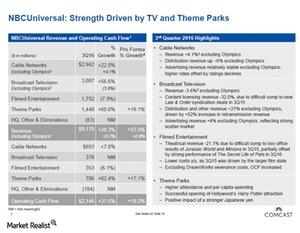 How Did Comcast's NBCUniversal Perform in 3Q16?
By Shirley Pelts

Updated
Comcast's Cable Networks
According to Comcast (CMCSA), the Rio Olympics were a spectacular success for the company. Comcast's Cable Networks business had revenues of $2.9 billion in fiscal 3Q16, up 22% year-over-year. These revenues include $432 million from the Rio Olympics. This segment recorded relatively stable advertising revenues. Higher advertising rates were offset by a decline in program ratings.
Article continues below advertisement
Broadcast Television
Comcast's broadcast television segment also had a strong quarter in fiscal 3Q16 with revenues of $3.1 billion, up 56.6% over the same quarter last year. Around $1.2 billion of revenues for the Broadcast television segment came from the Rio Olympics. However, excluding revenue from the Olympics, this segment's revenues fell 3.6%, indicating a fall of content licensing revenues by 32% over the same quarter last year.
The decline in content licensing revenues was a result of a difficult comparison to television syndication deals for Law & Order in fiscal 3Q15.
Filmed Entertainment
Although Comcast's The Secret Life of Pets recorded strong theatrical performance in fiscal 3Q16, its theatrical distribution revenue fell 21.1% due to a difficult comparison to the performance of Jurassic World and Minions at the box office in fiscal 3Q15. This segment recorded lower production costs in fiscal 3Q16 compared to the same quarter last year because, in fiscal 3Q15, Comcast's Universal Pictures released more films.
Theme Parks
Comcast's Theme Parks segment had a very successful fiscal 3Q16 with revenues of $1.4 billion—a rise of 60.6% over fiscal 3Q15. The core driver of this growth was higher attendance at the company's theme parks and higher per-capita guest spending.