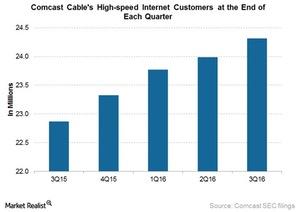 Comcast's High-Speed Internet Business: A Key Growth Driver
By Shirley Pelts

Oct. 31 2016, Updated 3:04 p.m. ET
Comcast's high-speed Internet business
A core growth driver of Comcast's (CMCSA) Cable Communications division in 3Q16 was its High-Speed Internet segment. Comcast's management is optimistic about the growth trajectory of this business.
In fiscal 3Q16, Comcast's high-speed Internet business had revenues of $3.4 billion, up 8.8% year-over-year. This growth was mainly driven by an increase in customers, "rate adjustments," and customers subscribing to higher-priced tiers. In fiscal 3Q16, Comcast added 330,000 customers, including residential and business customers. These net additions were up 3% over the same quarter last year. The company has added 1.4 million customers over the last 12 months.
Article continues below advertisement
As the chart above shows, Comcast had 24.3 million high-speed Internet customers at the end of fiscal 3Q16. According to Comcast, over the last 15 years, the company has increased its Internet speeds 17 times. Around 80% of Comcast's residential customers have opted for speeds of 50 Mbps (megabits per second) or higher, and the company has 15 million Wi-Fi hotspots that customers can access in the United States. These factors have differentiated the company from its competitors and increased customer retention for Comcast.
Innovation in the high-speed Internet business
Comcast stated at the Nomura Media Telecom & Internet Conference earlier this year that its high-speed Internet business had a penetration of 70%–75% in the United States. The company also indicated that, even though it has acquired a significant market share from its competitors, it still feels that it has a long way to go. Comcast management also mentioned, "From a volume perspective, we have both the size of the market working for us and then the ability to continue to take share within that market. I think overall we're in the low 40% penetration in the areas that we serve and so significant market share opportunities still."
Comcast indicated that one of the reasons for the success of its high-speed Internet business was that its network offers a speed of 2 Gbps (gigabits per second) across most of its footprint. Comcast has also started to offer a cheaper plan at an Internet speed of 1 Gbps with its rollout of DOCSIS 3.1 technology.