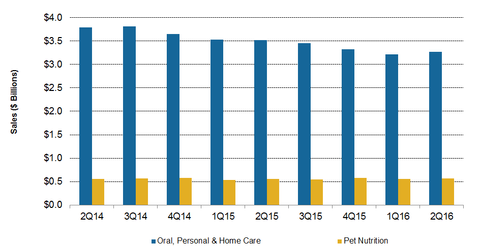 How Are Colgate-Palmolive's Segments Expected to Perform in 3Q16?
By Gabriel Kane

Updated
Segment performance
Colgate-Palmolive's (CL) net sales fell 5.4% in 3Q16. However, the company's organic sales, which exclude the impact of foreign exchange and other structural changes, rose 4.5%.
Colgate-Palmolive operates in two segments: Oral, Personal & Home Care and Pet Nutrition. In 2Q16, the net sales of the Oral, Personal & Home Care product segment fell 6.9%. However, the segment's organic sales grew 4.5%. Sales of the Pet Nutrition segment grew 3.6% in 2Q16 driven by higher volumes and pricing, partially offset by forex headwinds.
Article continues below advertisement
Performance by region
The Oral, Personal & Home Care segment accounted for 85% of the overall sales in 2Q16. The segment's 2Q16 sales fell as the favorable impact of higher pricing was offset by lower volumes and currency headwinds. In 2Q16, the segment derived 29% of its sales from Latin America, 24% from North America, 21% from Asia-Pacific, 19% from Europe, and 7% from Africa and Eurasia. Rival Procter & Gamble (PG) generated 41% of its net sales from the US market in fiscal 2016, which ended on June 30, 2016. Colgate-Palmolive and Procter & Gamble together account for 16.3% of the Consumer Staples Select Sector SPDR ETF (XLP).
In Latin America, the segment's sales fell 16.7%, primarily due to the negative impact of foreign exchange and lower volumes. However, the region's organic sales grew 9.5% driven by higher sales of toothpaste and manual toothbrush categories, underarm protection and shampoo categories, and fabric softener and liquid cleaner categories.
In Africa and Eurasia, sales fell 5.9% as increased pricing was offset by 13.5% of currency headwinds and a 1.5% drop in volumes. The region's organic sales grew 7.5% due in part to the increase in sales of toothpaste, manual toothbrushes, bar soap, and shower gel.
In North America, the segment's 2Q16 reported sales grew 1.7% and organic sales were up 2%. This growth was driven by sales of the manual toothbrush, toothpaste, and shower gel categories.
In Europe, net sales rose 0.66% as higher volumes were offset by unfavorable pricing and forex headwinds. The region's organic sales growth of 1% was due to toothpaste and manual toothbrush categories.
In Asia-Pacific, reported sales fell 7.3% due to lower volumes and forex headwinds. However, 2Q16 organic sales rose 2% due to a rise in the sales of toothpaste and fabric softener categories.
What does the company expect?
The performances of Colgate-Palmolive's segments are likely to be dragged by adverse foreign currency fluctuations and unfavorable macro conditions in certain markets. Based on the guidance issued in July 2016, the company expects a low to mid-single digit decline in 2016 overall sales.