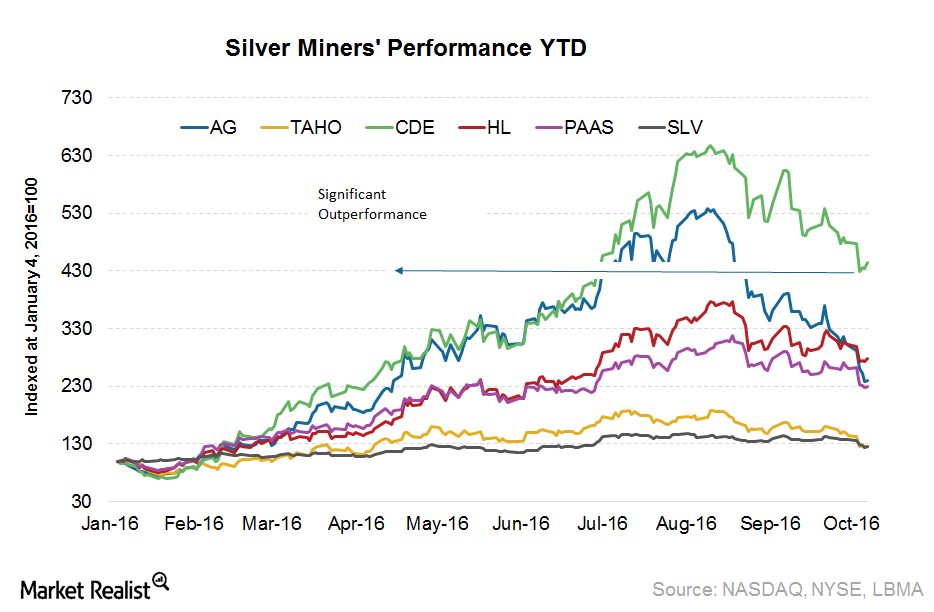 Coeur Mining Stock Gains Have Slowed, and Here's Why
Equity dilution fears change CDE stock
Among precious metal and mining stocks, Coeur Mining (CDE) is one of the most successful. CDE stock has risen more than 344% since the start of the year. The uptrend has been driven by rising gold and silver prices.
However, in the last month, CDE stock has fallen 26%. The shares are under pressure mainly due to equity dilution fears. The company disclosed in September that it plans to sell $200 million in equity in order to repay debt.
Article continues below advertisement
Coeur's outperformance
Even after the dismal stock run over the last month, Coeur has outperformed its peers significantly year-to-date (or YTD). Coeur Mining is highly leveraged operationally compared to its closest peers. It's a high-cost operator, and its operational leverage is the main reason for its outperformance.
As you can see in the above graph, Coeur Mining has risen 344% YTD as of October 7, 2016. Pan American Silver (PAAS) has risen 160%, Hecla Mining (HL) has risen 129%, and Silver Standard Resources (SSRI) has risen 103%. The prices of silver (SLV) and gold (GLD) have risen 26% and 18%, respectively.
Series overview
In this series, we'll look at analysts' recommendations and 3Q16 earnings expectations for Coeur Mining. It's important to note that analyst estimates usually lag behind price movements. We see upgrades coming when stocks have already risen. As for downgrades, they come when a company has already seen a downward price action.
That said, changes in analyst estimates are key drivers of short-term price movements. Investors should keep track of what analysts are estimating since it provides insight into what the market is expecting from a given company.
Coeur Mining reported its 3Q16 production results on October 7, 2016. Before we move on to look at the company's 3Q16 earnings expectations, let's look briefly at its 3Q16 production numbers.