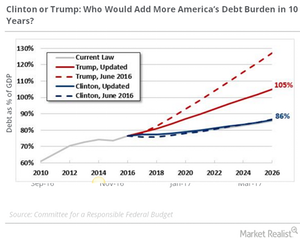 Clinton or Trump: Who Would Add More to Debt Burden in 10 Years?
By Surbhi Jain

Nov. 22 2019, Updated 6:16 a.m. ET
$200 billion or $5.3 trillion over 10 years
According to estimates of the Committee for a Responsible Federal Budget (or CRFB), Democratic nominee Hillary Clinton's economic plan would increase public debt in the United States (IVV) (VOO) by about $200 billion over the next ten years. That would lead to public debt becoming 86.0% of GDP. It currently stands at 77.0%.
Republican nominee Donald Trump's plan could raise this figure to 105.0%, according to the CRFB. The CRFB estimates that Trump's plan would increase US public debt by $5.3 trillion in the next ten years.
Article continues below advertisement
Here's the math
The CRFB has shown how it calculated these figures. Over the next ten years, the CRFB estimates that Clinton's plan would generate $1.5 trillion in higher taxes, offset by -$1.7 trillion in higher spending and -$0.05 trillion in additional interest costs, thereby creating a $200 billion fiscal surplus to reduce America's debt burden.
According to the CRFB, Trump's plan would most likely lead to a -$5.8 trillion from tax cuts and another -$0.7 trillion from higher interest costs, supported by only $1.2 trillion from primary spending cuts. The CRFB believes that would leave the US economy (IWF) (IWD) (SQQQ) with a net $5.3 trillion in increased fiscal deficit over the next ten years.