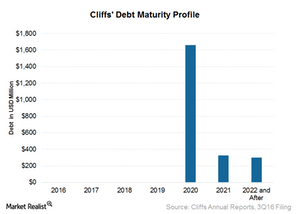 Cliffs Natural Resources's Balance Sheet Has Room to Breathe
By Anuradha Garg

Nov. 2 2016, Updated 8:04 a.m. ET
Financial leverage
While it's important to keep an eye on a company's financial leverage, it becomes increasingly important to do so in today's volatile times. Cliffs Natural Resources's (CLF) debt escalated due to acquisitions at the peak of the cycle and subsequent write-downs. This put immense pressure on its stock price.
Cliffs Natural Resources's new management has been trying to reduce its indebtedness in earnest since it took over in August 2014. The management maintains that its top priority for proceeds from any source is to retire its debt.
Article continues below advertisement
Issuing equity to improve balance sheet
Recently, Cliffs Natural Resources had raised $300 million in equity with the intention of using these proceeds for general corporate purposes such as repaying debt, particularly its notes due in 2018.
The company's management noted during 3Q16 that it has reduced its debt by $500 million in 3Q16, thereby bringing its net down to $2 billion compared to $2.5 billion at the end of 2Q16. This also reduced its net expenses by $17 million annually.
In the company's 3Q16 earnings press release, Cliffs Natural Resources's CEO, Lorenco Goncalves, said, "In the third quarter, we reduced our debt by another $500 million, bringing our net debt down to $2 billion. Our flawless operational performance, commercial accomplishments and financial execution during the last two years have earned the respect of investors and banking institutions, allowing us to execute in Q3 another important transaction: the early repayment of the 2018 Notes. With that, we have eliminated the last obstacle in our way to better times."
With this, Cliffs Natural Resources's next major repayment comes due after 2020, giving it ample time to accumulate cash to reduce its financial leverage.
Other US (VTI) steel companies with high financial leverage such as ArcelorMittal (MT), AK Steel (AKS), and U.S. Steel (X) are also making efforts to reduce their debts.
Liquidity
Cliffs Natural Resources (CLF) ended 3Q16 with $132 million in cash and $247 million in asset-backed lending facilities. This amounts to $379 million in total liquidity. The company outlined the receipts of proceeds from equity issuance and the corresponding repayment of the 2018 notes as the two major liquidity events in the quarter.