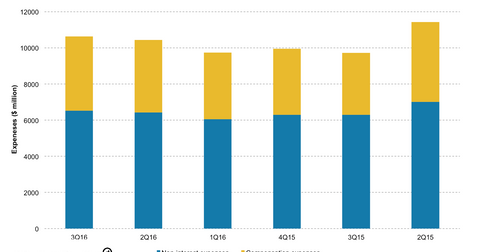 Chart in Focus: Inside the Progress of Morgan Stanley's Project Streamline
By Rebecca Keats

Updated
Expenses shot up in 3Q16
Morgan Stanley (MS) reported better-than-expected profits for 3Q16. As has been the case with peers (XLF) J.P. Morgan (JPM), Citigroup (C), Bank of America (BAC), and Wells Faro (WFC), Morgan Stanley's also focused on disciplined expense management.
However, during the third quarter, the bank's compensation expenses rose $700 million to $4.1 billion, and overall non-interest expenses rose 4% to $6.5 billion.
Article continues below advertisement
Project Streamline
Last year, the company announced a new efficiency plan, Project Streamline, aimed at reducing costs by $1 billion by 2017—assuming no growth in revenues. Project Streamline is designed to identify significant expense reductions.
These cutbacks will eliminate redundant legal entities and relocate employees out of "high-cost centers" to less costly locations, among other simplification efforts, Chief Executive Officer James Gorman said. Project Streamline will rely on the use of technology to automate its infrastructure, outsourcing to third party vendors to reduce costs and a location strategy to move employee in high-cost areas to low cost locations.
Boosting ROE
Morgan Stanley aims to utilize these cost savings to boost its ROE (return on equity) from its current 8.5% to its target in the 9%–11% range.
Meanwhile, the company has been restructuring its fixed income and commodities trading business in the past year. Last year, it laid off one-quarter of its fixed income staff and made several changes in its top management.
Morgan Stanley has also made some progress by revamping the firm's procurement system, moving some jobs to lower-cost cities like Bangalore, India, and Baltimore, Maryland, and combining data centers.